Creamed corn
What is creamed corn?
About the ingredient creamed corn. Including 84 recipes with creamed corn, nutrition data, photos, and where to find it.
About
Creamed corn  (also known by other names, such as "cream-style corn") is a soupy style sauce made by melting butter and adding flour, milk, canned or fresh corn, and optionally some spices.  The resulting corn soup is partially puréed which releases some of the sweet liquid in the corn kernels.
Sugar and starch may be added and in home-made version, some variety of milk and sometimes cream.
In store-bought canned versions milk is less common while added sugars and salt are more commonly added.
It's easy to make your own creamed corn and avoid added salt and preservatives of canned varieties.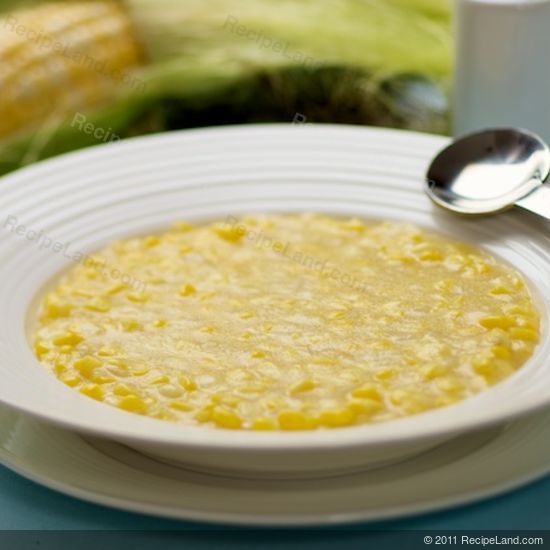 Try one of these recipes:
Creamed Corn with Bacon and Leeks
Nutrition
Nutrition Facts
Serving Size 1 cup (256g)
Amount per Serving
Calories
184
Calories from Fat 9
Trans Fat ~
Total Carbohydrate
46.4g
15%
Sugars 8.3
Protein 4.5g
Vitamin A 4%
•
Vitamin C 20%
* Percent Daily Values are based on a 2,000 calorie diet. Your daily values may be higher or lower depending on your caloric needs.
Where found
Creamed corn is usually found in the canned goods section or aisle of the grocery store or supermarket.
Food group
Creamed corn is a member of the Vegetables and Vegetable Products US Department of Agriculture nutritional food group.
How much does creamed corn weigh?
| Measure | Grams |
| --- | --- |
| 1 cup | 256 |
| 1 can (303 x 406) | 482 |
| | | |
| --- | --- | --- |
| In Chinese: | 奶油玉米 | |
| British (UK) term: | Creamed corn | |
| en français: | maïs en crème | |
| en español: | crema de maíz | |
Recipes using creamed corn
There are 84 recipes that contain this ingredient.