Apples, granny smith
What are Granny Smith apples?
About the ingredient Granny Smith apples. Including 278 recipes with Granny Smith apples, nutrition data, photos, and where to find it.
About
Granny Smith apples are medium in size with a bright green and waxy skin.  The flesh is firm, juicy, acidic (tart), and crisp.  This is one of the most ideal apples for baking recipes as the slice hold their shape very well, and it is not overly sweet.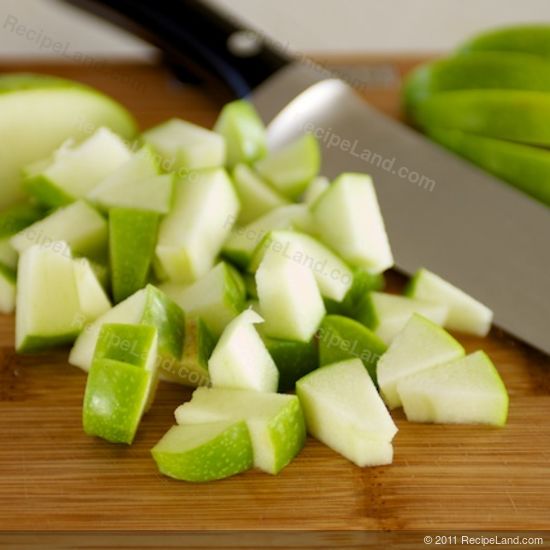 The fruit of the apple tree is one of the most widely cultivated fruit-bearing trees in the world.
The apple originated in Asia Minor and grew wild in Europe by prehistoric times.  Cold storage with carbon dioxide ensures a year-round supply. The American red delicious accounts for over 1/2 of the apple trade.
The apple is the most popular fruit in the US, Canada, Britain, Germany, and France.
"As American as apple pie" is a testament to the dedication of the US to the first fruit planted in the United States.  It was carried to the US West by the legendary Johnny Appleseed (1854).
Apples are best as a dessert fruit from October to April. They should be firm, without blemishes or wrinkles.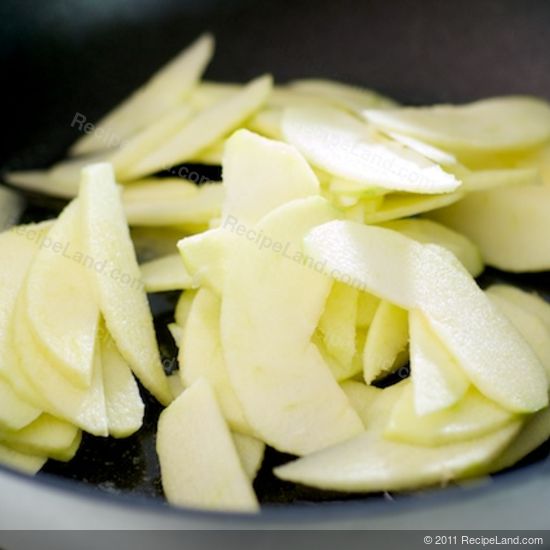 ## Preservation
Ripe apples can be stored in a ventilated room stalk side down when picked.   Apples can also be sliced into rings and dried. Cooked apples also freeze well and can be turned into jellies and jam preserves such as the American Apple Butter.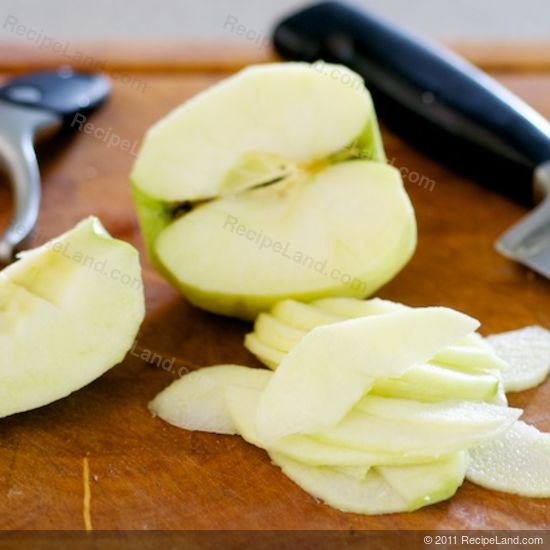 Nutrition
Nutrition Facts
Serving Size 1 cup slices (110g)
Amount per Serving
Calories
52
Calories from Fat 1
Trans Fat ~
Total Carbohydrate
14.0g
5%
Sugars 11.1
Protein 0.3g
Vitamin A 1%
•
Vitamin C 7%
* Percent Daily Values are based on a 2,000 calorie diet. Your daily values may be higher or lower depending on your caloric needs.
Where found
Granny smith apples are usually found in the produce section or aisle of the grocery store or supermarket.
Food group
Apples, granny smith are a member of the Fruits and Fruit Juices US Department of Agriculture nutritional food group.
How much do Granny Smith apples weigh?
| Measure | Grams |
| --- | --- |
| 1 cup slices | 110 |
| 1 medium (2-3/4" dia) (approx 3 per lb) | 128 |
| | | |
| --- | --- | --- |
| In Chinese: | 澳洲青苹苹果 | |
| British (UK) term: | Apples, granny smith | |
| en français: | pommes Granny Smith | |
| en español: | manzanas granny smith | |
Recipes using Granny Smith apples
There are 278 recipes that contain this ingredient.