Fenugreek
What is fenugreek?
About the ingredient fenugreek. Including 45 recipes with fenugreek, nutrition data, and where to find it.
About
Fenugreek is an aromatic Mediterranean plant coming from the Middle-East.
It belongs to the pea family and produces slender, long, curved pods that contain flattened brownish coloured seeds.
Fenugreek seeds have a slightly bitter taste that are roasted and ground and used for flavouring curries. The distinct flavour of Fenugreek is readily recognized in many curry powders and pastes.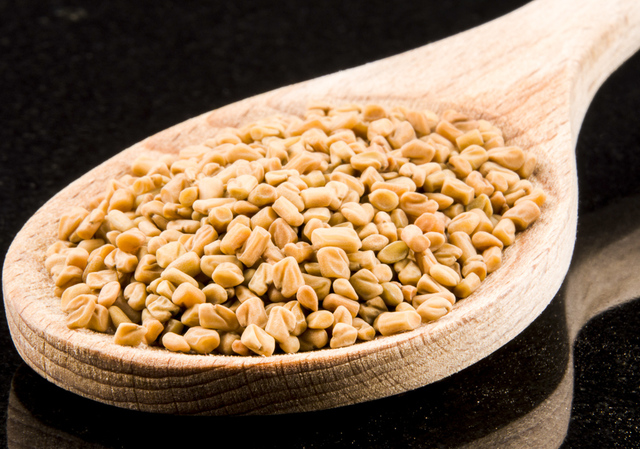 The seeds are stone-like and very hard and requires use of a special grinder or heavy pestle and mortar.
Fenugreek leaves have a very strong aroma and in India, Turkey and various Arab countries are used either fresh or dried as a culinary vegetable or herb.
Nutrition
Nutrition Facts
Serving Size 1 tbsp (11g)
Amount per Serving
Calories
35
Calories from Fat 6
Trans Fat ~
Total Carbohydrate
6.4g
2%
Sugars ~
Protein 2.5g
Vitamin A 0%
•
Vitamin C 1%
* Percent Daily Values are based on a 2,000 calorie diet. Your daily values may be higher or lower depending on your caloric needs.
Where found
Fenugreek is usually found in the spices section or aisle of the grocery store or supermarket.
Food group
Fenugreek is a member of the Spices and Herbs US Department of Agriculture nutritional food group.
How much does fenugreek weigh?
| Measure | Grams |
| --- | --- |
| 1 tbsp | 11 |
| 1 tsp | 3 |
| | | |
| --- | --- | --- |
| In Chinese: | 胡芦巴 | |
| British (UK) term: | Fenugreek | |
| en français: | fenugrec | |
| en español: | fenogreco | |
Recipes using fenugreek
There are 45 recipes that contain this ingredient.