Cloves, whole
What is cloves, whole?
About the ingredient cloves, whole. Including 110 recipes with cloves, whole, nutrition data, and where to find it.
About
Cloves can be used in cooking either whole or in a ground form, but as they are extremely strong, they are used sparingly.
Dried cloves are also a key ingredient in Indian masala chai, spiced tea, a special variation of tea popular in some regions, notably Gujarat. In the US, it is often sold under the name of "chai" or "chai tea", as a way of differentiating it from other types of teas sold in the US.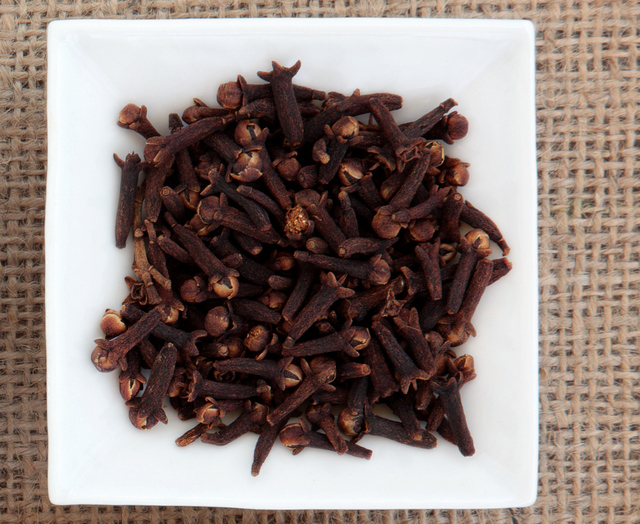 Due to the Indonesian influence, the use of cloves is widespread in the Netherlands. Cloves are used in cheeses, often in combination with cumin. Cloves are an essential ingredient for making Dutch speculaas. Furthermore, cloves are used in traditional Dutch stews like hachee.
Nutrition
Nutrition Facts
Serving Size 1 tbsp (6g)
Amount per Serving
Calories
19
Calories from Fat 10
Trans Fat ~
Total Carbohydrate
3.7g
1%
Sugars 0.1
Protein 0.4g
Vitamin A 1%
•
Vitamin C 8%
* Percent Daily Values are based on a 2,000 calorie diet. Your daily values may be higher or lower depending on your caloric needs.
Where found
Cloves, whole is usually found in the spices section or aisle of the grocery store or supermarket.
Food group
Cloves, whole is a member of the Spices and Herbs US Department of Agriculture nutritional food group.
How much does cloves, whole weigh?
| Measure | Grams |
| --- | --- |
| 1 tbsp | 6 |
| 1 tsp | 2 |
| | | |
| --- | --- | --- |
| In Chinese: | 丁香,全 | |
| British (UK) term: | Cloves, whole | |
| en français: | clous de girofle, ensemble | |
| en español: | clavo de olor, todo | |
Recipes using cloves, whole
There are 110 recipes that contain this ingredient.