Parmesan, parmigiano-reggiano cheese, grated
What is Parmesan cheese?
About the ingredient Parmesan cheese. Including 2,492 recipes with Parmesan cheese, nutrition data, photos, and where to find it.
About
Parmesan cheese (parmigiano-reggiano) is an iconic hard cheese originally from Italy, widely used and produced around the world. In Europe, Parmesan cheese is a protected cheese, meaning that only cheeses made in a certain way in a certain area of Italy can be labeled as Parmesan cheese.
In most of Europe, Parmesan cheese is referred to by its Italian name: Parmigiano-Reggiano, a reference to the regions in which the cheese is produced. The cheese is traditionally made by mixing whole morning milk with skimmed milk from the previous evening. The milk is heated and mixed with rennet to form curds, which are pressed in a cheese mold.
True Parmesan cheese is molded with a stencil, indicating where and when it was made. The cheese is soaked in a brine bath and then aged for a minimum of two years before being graded for sale.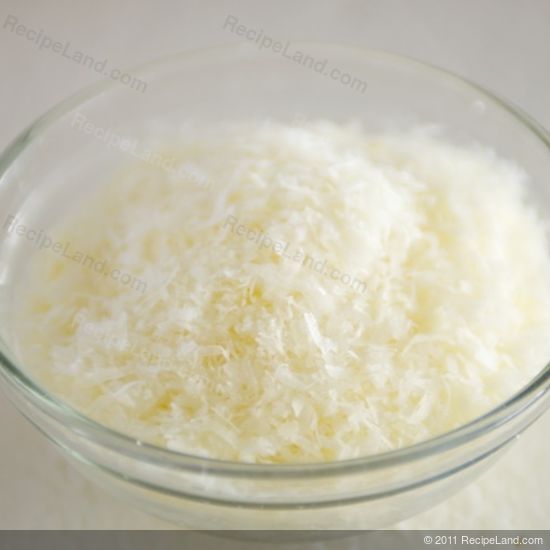 Another well known export of the region is Parma ham. The pigs are usually fed the discarded whey from the Parmesan cheese manufacturing process, and this is said to create a distinct flavor in the meat. The curing process for true Parma ham is also protected, along with many other regional Italian foods. Some import stores specialize in importing protected Italian foods for consumers outside of Europe who wouldlike to be assured the genuine article.
Real Parmesan cheese is a hard yellowish cheese which breaks in a sliver-like pattern. The dense cheese has large grains in it which can easily be seen with the naked eyes. When testing a wedge of Parmesan cheese, the marks from the Parmigiano-Reggiano stencil will also be able to be seen, and you should be able to see which dairy made the cheese, and when. A reputable importer will cut a sliver for consumers to taste before packaging the cheese for sale, and may offer tastes of several wheels of Parmesan cheese so that the best flavor can be identified.
Grocery stores around the world also carry cheese made in the Parmesan style outside of Italy. Some of these cheeses rival true Parmigiano-Reggiano for flavor and texture, while others are of a somewhat lesser quality. If possible, obtain Parmesan cheese in a whole wedge, rather than pre-grated, as the wedge will hold flavor and texture better, and the cheese will not be as dry when it is used.
 [img1-big]: https://recipeland.com/images/i/13090/298/e79cc8bff8c2fc78fd12deeaa85e6cb2.jpg
Nutrition
Nutrition Facts
Serving Size 1 cup (100g)
Amount per Serving
Calories
431
Calories from Fat 257
Trans Fat ~
Total Carbohydrate
4.1g
1%
Sugars 0.9
Protein 38.5g
Vitamin A 9%
•
Vitamin C 0%
* Percent Daily Values are based on a 2,000 calorie diet. Your daily values may be higher or lower depending on your caloric needs.
Where found
Parmesan cheese is usually found in the cheeses section or aisle of the grocery store or supermarket.
Food group
Parmesan, parmigiano-reggiano cheese, grated is a member of the Dairy and Egg Products US Department of Agriculture nutritional food group.
How much does Parmesan cheese weigh?
| Measure | Grams |
| --- | --- |
| 1 cup | 100 |
| 1 tbsp | 5 |
| 1 oz | 28 |
| | | |
| --- | --- | --- |
| In Chinese: | 巴马干酪,帕马森干酪芝士,磨碎 | |
| British (UK) term: | Parmesan, parmigiano-reggiano cheese, grated | |
| en français: | fromage parmesan | |
| en español: | queso parmesano | |
Recipes using Parmesan cheese
There are 2492 recipes that contain this ingredient.