Walnuts
What are walnuts?
About the ingredient walnuts. Including 2,004 recipes with walnuts, nutrition data, and where to find it.
About
The walnut is a hearty heart-healthy snack on its own and adds a wholesome bit of crunch to a 'wide variety of dishes. Encased in a grooved, light-brown shell, the walnut kernel is formed by two off-white, uneven lobes and has a mildly sweet and sometimes bitter taste.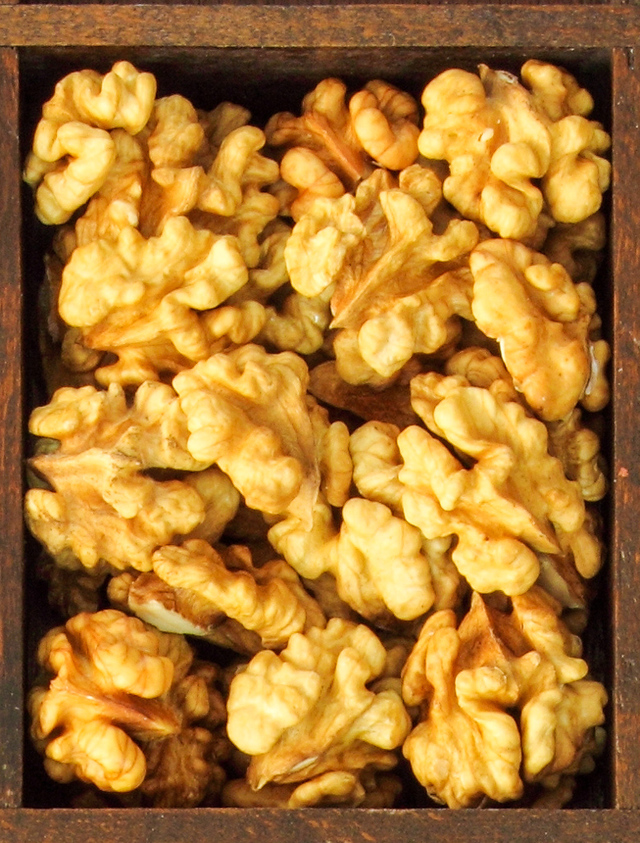 Most of the nutritional value of walnuts is in their polyunsaturated fats, which also make walnuts quite perishable.
Storage
When walnuts remain in their shells, they can last a few months unrefrigerated in a cool, dark place, up to six months refrigerated or a year frozen. Unshelled nuts are the best choice for long-term storage.
Shelled walnuts should be stored in an airtight container and can last up to four months in the refrigerator or longer if kept frozen.
Walnuts have a wonderful earthy and savory flavour with a slightly waxy texture that works well in both sweet and savory recipes. They give cakes and brownies as well as salads and sides a delightful crunch. Many consider walnuts a super-food as they contain Omega-3 which is beneficial to heart health. Just a handful a day can make a difference. Walnuts go brilliantly with cheese, honey and fruits. Easy walnut treats Caramelize walnut halves in a skillet with some sugar and a bit of water. The sticky and crunchy result is perfect on top of ice cream, pies or even some low-fat ricotta cheese.
Nutrition
Nutrition Facts
Serving Size 1 cup, chopped (125g)
Amount per Serving
Calories
772
Calories from Fat 663
Trans Fat ~
Total Carbohydrate
12.4g
4%
Sugars 1.4
Protein 30.1g
Vitamin A 1%
•
Vitamin C 4%
* Percent Daily Values are based on a 2,000 calorie diet. Your daily values may be higher or lower depending on your caloric needs.
Where found
Walnuts are usually found in the baking supplies section or aisle of the grocery store or supermarket.
Food group
Walnuts are a member of the Nut and Seed Products US Department of Agriculture nutritional food group.
How much do walnuts weigh?
| Measure | Grams |
| --- | --- |
| 1 cup, chopped | 125 |
| 1 tbsp | 7 |
| 1 oz | 28 |
| | | |
| --- | --- | --- |
| In Chinese: | 核桃 | |
| British (UK) term: | Walnuts | |
| en français: | noix | |
| en español: | nueces | |
Recipes using walnuts
There are 2004 recipes that contain this ingredient.