First Classic Brownies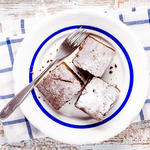 First Classic Brownies recipe
Metric
Directions
Preheat oven to 250 degrees F..
Chop the chocolate. Put in an ovenproof pan, and melt in the oven, stirring occasionally, until smooth.
Remove chocolate, increase oven temp to 325℉ (160℃).
Grease a 9 inch square baking pan.
Combine flour, baking powder, and salt.
With an electric mixer set on medium-low speed, beat butter and sugar, until light and fluffy.
Beat in eggs, one at a time.
Slowly, beat in chocolate, then the vanilla.
Reduce to low speed, add flour mixture and beat until just mixed.
Stir in walnuts if desired.
Spread batter into pan. Bake until tested done (toothpick test) about 30 to 35 minutes.
Cool before cutting into squares.