Pork chops
What are pork chops?
About the ingredient pork chops. Including 292 recipes with pork chops, nutrition data, photos, and where to find it.
About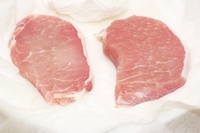 Whether you're looking to create a quick and easy weeknight dinner or can become a show-stopping meal for a special occasion, pork chops can be a reliable go-to.
When it comes to buying pork chops, it's essential to look for cuts that are fresh and high-quality. You should purchase pork chops from a local butcher or reputable meat counter. Look for chops that are pinkish-red in color with a decent amount of fat cap to help keep things moist (depending on the recipe). The thickness of the chops can vary depending on your preference, but generally, a 1-inch-thick chop is a good starting point.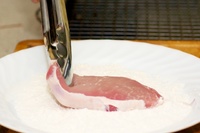 One of the most common culinary uses for pork chops is simply pan-frying or grilling them and serving them alongside your favorite sides. However, pork chops are used in various recipes, from stews and baked pork chop casseroles or sliced into strips for stir-fries.
If you're looking for a classic pork chop recipe, try seasoning your chops with salt, pepper, and garlic powder before pan-frying them in oil until they are browned and cooked. For a twist on the traditional, you can also try marinating your pork chops in a mixture of soy sauce, honey, and ginger before grilling them to perfection.
No matter how you prepare them, pork chops are a delicious ingredient that can add flavor and versatility to any meal. So, next time you're at the grocery store, pick up a few high-quality pork chops and get cooking!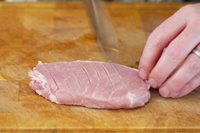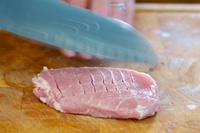 Nutrition
Nutrition Facts
Serving Size 3 oz (85g)
Amount per Serving
Calories
171
Calories from Fat 63
Trans Fat ~
Total Carbohydrate
0.0g
0%
Sugars 0.0
Protein 25.3g
Vitamin A 0%
•
Vitamin C 1%
* Percent Daily Values are based on a 2,000 calorie diet. Your daily values may be higher or lower depending on your caloric needs.
Where found
Pork chops are usually found in the asian section or aisle of the grocery store or supermarket.
Food group
Pork chops are a member of the Pork Products US Department of Agriculture nutritional food group.
How much do pork chops weigh?
| Measure | Grams |
| --- | --- |
| 3 oz | 85 |
| 1 chop, excluding refuse (yield from 1 raw chop, with refuse, weighing 151 g) | 74 |
| | | |
| --- | --- | --- |
| In Chinese: | 猪排 | |
| British (UK) term: | Pork chops | |
| en français: | côtelettes de porc | |
| en español: | chuletas de cerdo | |
Recipes using pork chops
There are 292 recipes that contain this ingredient.