Brown sugar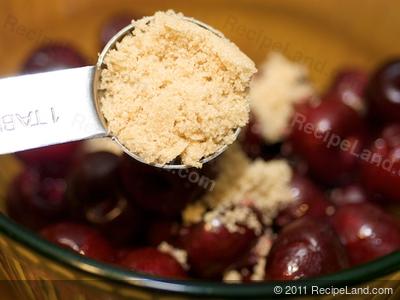 Detailed information about the ingredient brown sugar. Brown sugar is usually found in the baking supplies section or aisle of the grocery store or supermarket.
| | | |
| --- | --- | --- |
| In Chinese: | ?? | |
| British (UK) term: | Brown sugar | |
| en français: | unknown | |
| en español: | unknown | |
Description
Brown sugar is a sucrose sugar product with a distinctive brown color due to the presence of molasses. It is either an unrefined or partially refined soft sugar consisting of sugar crystals with some residual molasses content, or it is produced by the addition of molasses to refined white sugar.
Brown sugar contains from 3.5% molasses (light brown sugar)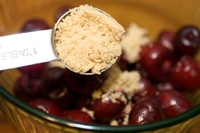 to 6.5% molasses (dark brown sugar).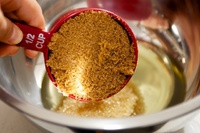 Brown sugar has a slightly lower caloric value by weight than white sugar due to the presence of water. One hundred grams of brown sugar contains 373 calories, as opposed to 396 calories in white sugar.
However, brown sugar packs more densely than white sugar due to the smaller crystal size and may have more calories when measured by volume. One tablespoon of brown sugar has 48 calories against 45 calories for white sugar.
Nutrition
To change serving size or for more detail on brown sugar visit the complete nutritional analysis of brown sugar.
Nutrition Facts
Serving Size 1 cup, packed packed (220g)
Amount per Serving
Calories
829
Calories from Fat 0
Trans Fat ~
Total Carbohydrate
214.1g
71%
Sugars 211.7
Protein 0.0g
Vitamin A 0%
•
Vitamin C 0%
* Percent Daily Values are based on a 2,000 calorie diet. Your daily values may be higher or lower depending on your caloric needs.
How much does brown sugar weigh?
food weight and complete nutritional analysis of brown sugar to determine the weight of any amount of brown sugar in the meantime.
Recipes that contain brown sugar
There are 4891 recipes that contain this ingredient.