Peanut Butter Chocolate Cookies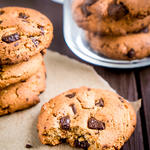 Peanut Butter Chocolate Cookies recipe
Metric
Directions
Preheat oven to 375℉ (190℃) (190C).
Place sheets of foil on countertop for cooling cookies.
Place chocolate chips in a heavy resealable plastic bag or microwave-safe bowl.
Microwave on 100% (HIGH) power for 30 seconds.
Knead or stir and repeat, if necessary, until completely smooth.
Combine brown sugar, peanut butter, shortening, milk and vanilla in a large bowl.
Beat at medium speed of electric mixer until well blended.
Add melted chocolate.
Beat just until blended.
Add egg. Beat just until blended.
Combine flour, baking soda and salt.
Add to creamed mixture at low speed.
Mix just until blended.
Stir in chopped peanuts.
Wrap dough in plastic wrap.
Refrigerate 3 to 4 hours or overnight.
Keep refrigerated until ready to use.
Shape dough into 2-inch (5 cm) balls.
Place 5 inches apart on ungreased cookie sheet.
Flatten into 3-inch (7 cm) patties.
Mark cookies in cross-hatch pattern with tines of fork.
Bake one baking sheet at a time at 375℉ (190℃) (190C) for 8 to 10 minutes, or until set and just beginning to brown. Do not overbake.
Cool 2 minutes on baking sheet.
Remove cookies to foil to cool completely.