Perfect Pumpkin Pie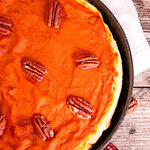 Perfect Pumpkin Pie recipe
Metric
Directions
1) Prepare the Ginger Crumb Crust.
2) Preheat the oven to 350℉ (180℃) F, with a rack in the middle. Put the canned pumpkin, corn syrup and brown sugar into the top of a double boiler.
Over boiling water, stirring frequently, heat the pumpkin mixture while you prepare the rest of the filling.
3) In a medium bowl, beat the eggs and stir in the cream or evaporated milk, rum, vanilla extract, spices and salt.
Mix well; then stir in the hot pumpkin-sugar mixture. Pour as much of the filling into the baked crust as will comfortably fit. (Bake the rest in 1 or 2 custard cups put in with the pie and removed from the oven after 30 minutes.)
4) Bake for 45 minutes to 1 hour, or until the filling is set. A knife inserted into the center of the pie will come out mostly clean, but the knife cut will show.
5) Cool the pie completely, decorate pie with pecan halves if desired, and serve it with whipped cream.
Makes one deep 9-inch pie, serving 12.