Curried Pumpkin Soup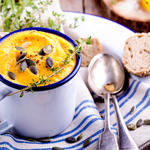 Curried Pumpkin Soup recipe
Metric
Directions
In a medium-large saucepan, sauté the onions and scallions in butter until golden brown.
Stir in the pumpkin.
Add the chicken broth, bay leaf, brown sugar, curry powder, nutmeg, and parsley and simmer, uncovered, for 15 minutes. Transfer the soup to a food processor and purée with the half-and-half or chicken stock to reach the desired consistency, creamy with medium density.
Add salt and pepper to taste. Serve with a handful of roasted pumpkin seeds or chopped chives.
A small dollop of sour cream or creme fraiche may also be used to garnish.
How to Cook Your Pumpkin: One 3-pound pumpkin: Preheat the oven to 350℉ (180℃).
Cut the pumpkin in half vertically and discard the seeds and stringy pulp.
Place the pumpkin, cut-sides down, in a shallow baking dish and add water about a ½ inch high.
Bake for about 1 hour or until tender.
The pumpkin is ready when it is easily pierced with a fork.
Cut each half into wedges and peel. A 3-pound pumpkin yields about 3 pounds cooked.