Asian Chicken, Peppers, Pineapple and Rice
Quick and easy, great for a fast weeknight meal. Nice balance of flavours!
Directions
Do not drain the pineapple.
In a small bowl combine the cornstarch, soy sauce and 2 tablespoons of pineapple juice, set aside.
Heat ½ of the oil in a heavy non-stick skillet over medium-high heat.
Sauté the onion for 2 or 3 minutes then add the red and green bell peppers and garlic.
Continue stir-frying for another 2 to 3 minutes. Remove the vegetables from the skillet and set aside (keep warm).
Add the remaining oil to the skillet and cook chicken cubes until white and just cooked through. This doesn't take long, about 5 minutes, don't overcook or the chicken will dry out.
Add the vegetables into the skillet with the chicken.
Add the pineapple chunks (or tidbits), juice, brown sugar, vinegar and minced ginger.
Heat to boiling, then add the cornstarch mixture.
Stir constantly until sauce is thickened and heated through.
Serve immediately over hot cooked white rice.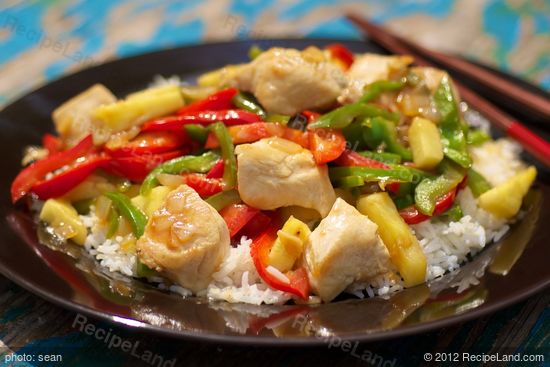 Nutrition Facts
Serving Size
275g
(9.7 oz)
Amount per Serving
Calories
426
16% of calories from fat
Trans Fat 0g
Total Carbohydrate
16
g
16%
Sugars g
Vitamin A 22%
•
Vitamin C 115%