Low-fat Double Chocolate Brownies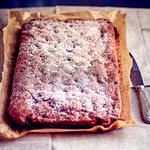 Low-fat Double Chocolate Brownies recipe
Metric
Directions
Preheat oven to 350°F.
Spray a 9-by-13-inch baking pan with cooking spray or grease with butter.
Melt chocolate and butter in a double boiler over barely simmering water. (Alternatively, place in a small microwave-safe bowl and microwave on Medium, stirring every 30 seconds, until melted and smooth.)
Add flour, cocoa and salt in a medium bowl, and whisk until well blended.
Beat egg whites, eggs and brown sugar in a large mixing bowl with an electric mixer.
Add applesauce, oil and vanilla, beat until well mixed.
Add the chocolate-butter mixture, beat until well mixed.
Add the flour mixture and mix just until incorporated.
Stir in chocolate chips.
Transfer the batter into the prepared pan, spreading evenly.
Sprinkle with walnuts or pecans if desired.
Bake until the top springs back when touched lightly, 22 to 25 minutes.
Transfer to a wire rack and allow to cool completely.
Dust with icing sugar if needed.
Cut into bars.