Easy Chicken Mozzarella Marinara
Ridiculously easy chicken, cheese with a mushroom marinara sauce that tastes great! This is a huge hit in our house, kids love it.
Directions
Preheat your oven to 350℉ (180℃). Coat a 13 by 9 inch (33x22cm) baking dish /pan with non-stick cooking spray.
In a small mixing bowl combine the marinara sauce, mushrooms and Italian herbs to blend and coat the mushrooms with sauce.
Placed the 4 chicken breast halves in the baking dish and cover each breast with 2 slices of mozzarella cheese, staggered. Cover the chicken and cheese with the marinara and mushroom mixture.
Sprinkle the top with shredded Parmesan cheese and sprinkle with more Italian herbs, to taste, if desired.
Bake for 25 to 30 minutes, or until the chicken internal temperature reaches 165℉ (74℃). Serve over cooked spaghetti. Easy and as tasty as can be!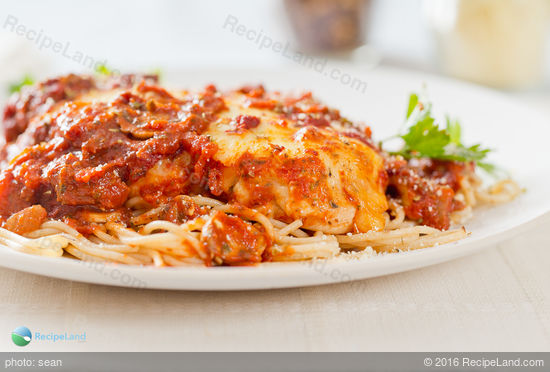 Nutrition Facts
Serving Size
337g
(11.9 oz)
Amount per Serving
Calories
602
24% of calories from fat
Trans Fat 0g
Total Carbohydrate
19
g
19%
Sugars g
Vitamin A 17%
•
Vitamin C 6%