15 Minute Sichuan-Style Chicken with Peanuts
Juicy chunks of chicken and crisp sweet sugar snap peas are in a sweet and slightly sour sauce, it's quick and easy to make, suitable for a weeknight and colorful enough for the weekend. Ready in less than 20 minutes flat.
Directions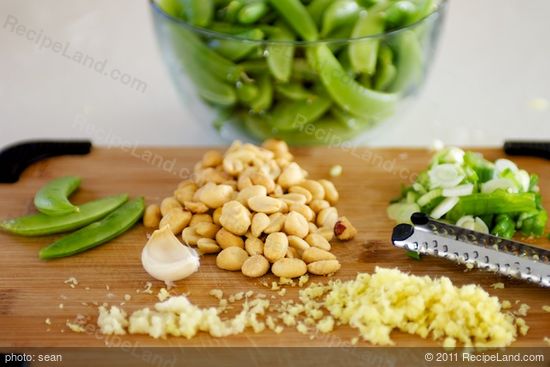 To prepare Sichuan sauce:
Whisk broth, tomato paste, vinegar, sugar, soy sauce, sesame oil, cornstarch and crushed red pepper to taste in a small bowl.
To prepare chicken:
Combine chicken, rice wine (or sherry), soy sauce, cornstarch and garlic in a medium bowl; mix thoroughly.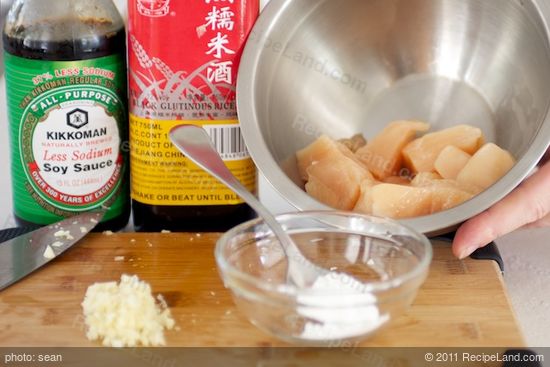 Heat a 14-inch flat-bottomed wok or large skillet over high heat until a bead of water vaporizes within 1 to 2 seconds of contact.
Swirl oil into the pan, add ginger and stir-fry for 10 seconds. Carefully add the chicken mixture, spreading it out.
Cook until the chicken begins to brown, about 1 minute.
Using a spatula, stir-fry for 30 seconds.
Spread the chicken out again and cook for 30 seconds.
Continue stir-frying until the chicken is lightly browned on all sides, 1 to 2 minutes.
Add snap peas and stir-fry for 1 minute.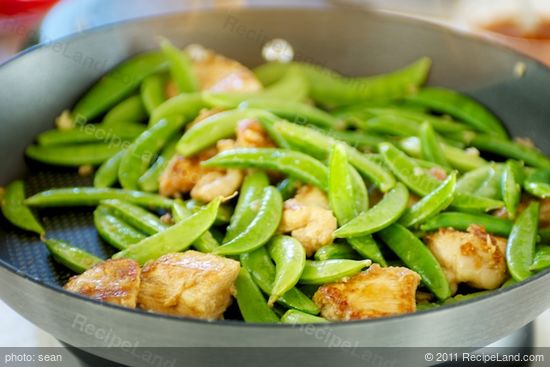 Stir the Sichuan Sauce, swirl it into the pan and stir-fry until the chicken is just cooked through and the sauce is slightly thickened and glossy, 30 seconds to 1 minute.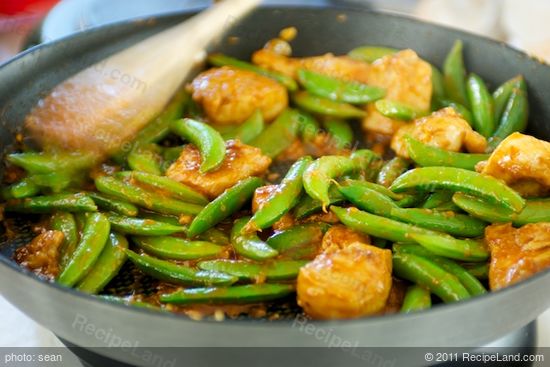 Transfer to a platter (discard the ginger) and sprinkle with peanuts and scallions.
Serve immediately.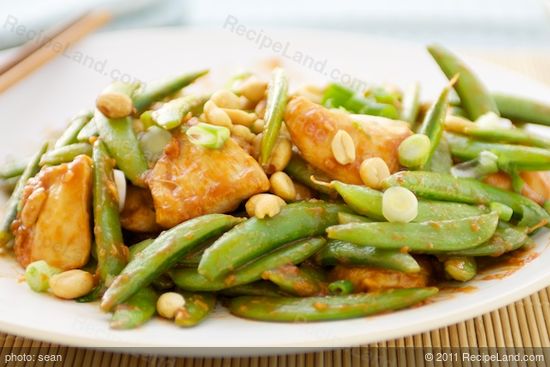 Nutrition Facts
Serving Size
151g
(5.3 oz)
Amount per Serving
Calories
270
35% of calories from fat
Trans Fat 0g
Sugars g
Vitamin A 2%
•
Vitamin C 3%