Chicken Stuffed with Goat Cheese
Directions
In medium bowl combine cheese, basil, thyme, tomatoes and olive oil.
Divide into four equal portions and form into small logs. Season each chicken breast with salt and pepper on both sides.
Place cheese log on each flattened chicken breast and roll chicken around cheese.
Dip each roll in egg white and roll in seasoned crumbs. Place seam-side down in baking dish with lid; cover.
Bake in preheated 350℉ (180℃) F oven 20 minutes. Uncover and spray chicken with olive oil flavored nonstick cooking spray.
Increase oven temperature to 450℉ (230℃) and bake additional 10 minutes.
To serve:
Cut each chicken breast into four slices and spoon red pepper sauce over top. Garnish with basil or parsley.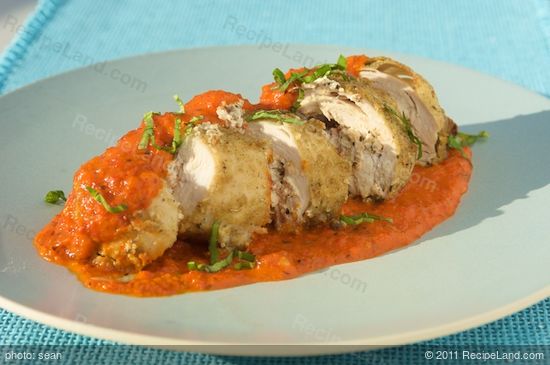 ---
---