Italian sausage
What is italian sausage?
About the ingredient italian sausage. Including 153 recipes with italian sausage, nutrition data, photos, and where to find it.
About
Sasuage is typically a mixture of ground (minced) meats, that is seasoned and then enclosed in a tube like casing.  Italian sausage is a fresh sausage that requires cooking by grilling, frying, poaching or boiling.
Typically Italian sausage is made from pork (pork sholder) along with pork fat then seasoned with salt, black pepper, fennel seed and in some area anise seed.
Hot Italian sausage will have hot chile pepper flakes added along with a healthy amount of black pepper.
In Italy there are numerous regional varieties with varying spices mixtures.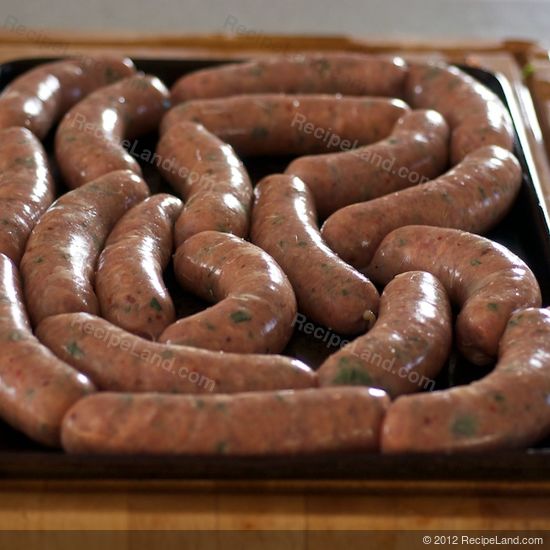 Nutrition
Nutrition Facts
Serving Size 1 link, 4/lb (83g)
Amount per Serving
Calories
285
Calories from Fat 204
Trans Fat ~
Total Carbohydrate
3.5g
1%
Sugars 0.7
Protein 15.9g
Vitamin A 1%
•
Vitamin C 0%
* Percent Daily Values are based on a 2,000 calorie diet. Your daily values may be higher or lower depending on your caloric needs.
Where found
Italian sausage is usually found in the meats section or aisle of the grocery store or supermarket.
Food group
Italian sausage is a member of the Sausages and Luncheon Meats US Department of Agriculture nutritional food group.
How much does italian sausage weigh?
| Measure | Grams |
| --- | --- |
| 1 link, 4/lb | 83 |
| 1 link, 5/lb | 67 |
| | | |
| --- | --- | --- |
| In Chinese: | 意大利香肠 | |
| British (UK) term: | Italian sausage | |
| en français: | saucisse italienne | |
| en español: | salchicha italiana | |
Recipes using italian sausage
There are 153 recipes that contain this ingredient.