Chicken Scarpariello (Shoemaker-style) Chicken with Sausage and Hot Cherry Peppers
Made popular by southern Italians in New York city restaurants this dish is based upon old-world family recipes. Here I've adjusted it to two hearty servings.
Directions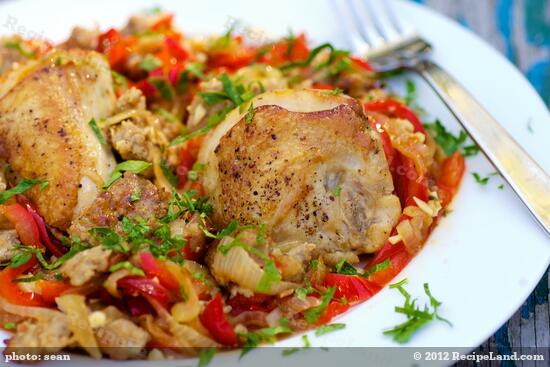 Split chicken breasts into two pieces, use a rocking motion to cut through the bone. For two servings one large chicken breast should be adequate. Adjust oven rack to middle position and pre-heat oven to 350℉ (180℃).
Heat a teaspoon of the oil, over medium-high heat in an oven safe skillet, add the bulk sweet Italian sausage and cook for about 3 minutes, breaking up the sausage into bite-sized pieces. Transfer the sausage to a plate lined with paper toweling. Drain fat from the skillet to a bowl, wipe out the skillet with paper towels.
Return the skillet to medium high heat and add the remaining oil. Pat chicken dry with paper towels and season generously with salt and pepper.
Add the chicken, skin side down and cook without moving for 3 to 5 minutes until the skin is well browned and crispy and the fat from the skin has rendered. Transfer the chicken to a plate. Pour off the fat, into the bowl with the sausage fat.
Return the skillet to the heat and add 2 teaspoons of the reserved fat (discard the rest). Add the onion and cook, stirring, about 2 minutes until it begins to soften.
Add the sweet bell pepper and the hot cherry peppers and cook, stirring for about 4 minutes. Add the garlic and cook stirring for about 30 seconds until fragrant.
Add the sugar, vinegar and chicken stock, bring to the boil, scraping the bottom of the pan with a wooden spoon to loosen that flavor packed fond.
Add the sausage and chicken, along with any accumulated juices to the skillet, arranging the chicken skin side up in a single layer.
Transfer the skillet to the oven and bake until the thickest part of the chicken reaches 160 degrees F (use and instant read thermometer), about 15 minutes or more.
Meanwhile combine the thyme, cornstarch and tablespoon of chicken stock in a small bowl.
Wrap the handle of the skillet with a kitchen towel (be careful the skillet will be very hot) and remove from the oven. Leave the kitchen towel on the handle as a reminder that it is hot!
Transfer the chicken to a platter (skin-side up) or to serving plates. (Ideally on a bed of creamy polenta).
With the skillet over medium heat on the stovetop, stir in the cornstarch mixture and cook for 2 minutes until slightly thickened.
Taste, adjust seasoning and add a bit more vinegar (up to 1 tablespoon). Spoon the sauce around the chicken (not on the skin to keep the skin crispy).
Sprinkle with parsley and serve immediately.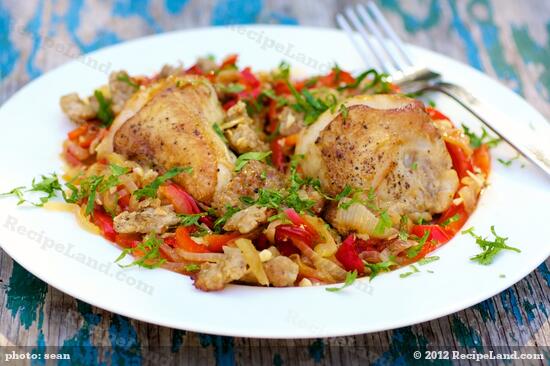 Nutrition Facts
Serving Size
441g
(15.6 oz)
Amount per Serving
Calories
675
38% of calories from fat
Trans Fat 0g
Sugars g
Vitamin A 52%
•
Vitamin C 138%