Chicken Cheese Stuffed Poblano Peppers
Classic stuffed peppers with a Mexican twist. Chicken, cheese and mushrooms makes this a great change with a bit of spicy flare.
Directions
Preheat the oven to 350℉ (180℃).
Using gloves to protect your hands (or make certain to wash well afterwards and keep your hands away from your face).
Wash and then using a sharp paring knife make a slit down the side of each pepper from top to bottom.
Carefully cut away the seeds and membrane inside each pepper and rinse with water. Set aside.
Using a large non-stick skillet heat 2 teaspoons of oil over of medium high heat.
Add the chopped onions and garlic and cook stirring frequently until the onions are translucent and starting to turn golden.
Add the diced chicken (or leftover chicken meat) and cook (if the chicken is raw). Add the tomatoes and mushrooms.
Spray a 2 quart casserole dish with cooking spray.
Using olive oil, oil the outside of the poblano peppers and place them cut side up in the casserole.
Divide the chicken mixture and stuff into each pepper through the slit. Stuff the cheese into the chicken mixture of each pepper.
Cover and bake for 40 to 45 minutes. Remove the cover for the last 10 minutes of cooking.
Serve over a bed of mexican or saffron scented rice.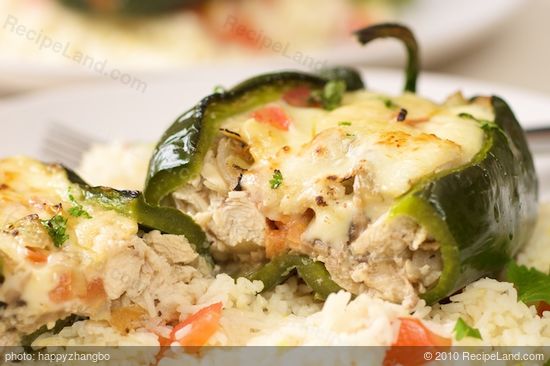 Nutrition Facts
Serving Size
266g
(9.4 oz)
Amount per Serving
Calories
358
46% of calories from fat
Trans Fat 0g
Sugars g
Vitamin A 14%
•
Vitamin C 24%