Secret Jagerschnitzel - German Hunter Schnitzel
Pork or veal schnitzel with a mushroom sauce topped with bacon. Perfect for Oktoberfest or any time you are hankering for German fare.
Directions
I searched Google for Jagerschnitzel and found the top ranked recipes that were only reasonably acceptable. Many cooked the schnitzel improperly. Many used non-traditional ingredients, the sauce was thick and goopey instead of smooth and shiny and one recipe even used jarred gravy. Others result in a thick greasy coating. Yikes!
A good schnitzel should have a coating that puffs up and separates from the meat when consuming and not adhere like glue. The sauce should be gently flavored, not over seasoned, and somewhat thin compared to thick western style gravy.
Here's my version that when I tested reminded me of my last trip to Germany.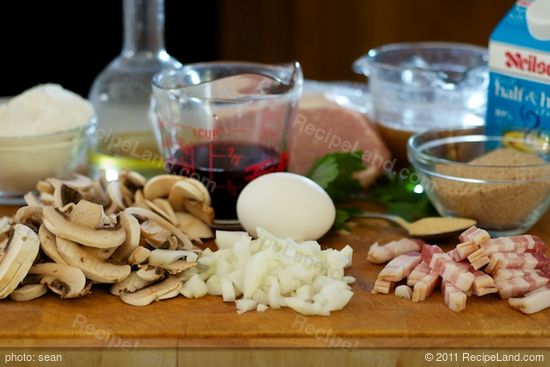 Pre-heat the oven to 300℉ (150℃) for keeping schnitzel warm whilst you prepare any accompanying sides.
Heat a skillet over medium heat and begin cooking the bacon until crispy.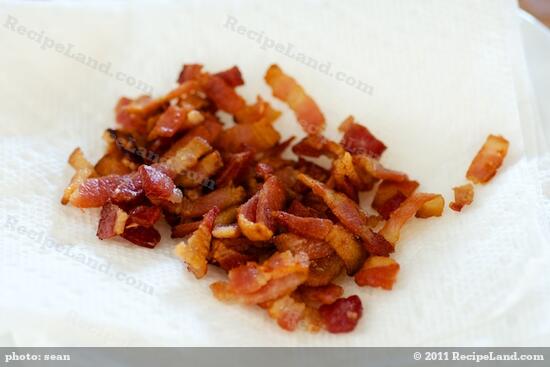 Meanwhile prepare the dredging for the schnitzel.
In a small bowl whisk together the flour, salt, garlic powder and black pepper. Distribute on a plate and set aside.
In the small bowl, whisk together the bread crumbs, salt, black pepper and garlic powder. Distribute on a plate.
One secret to a good snitchzel is to use fine bread crumbs. This helps allow the coating to puff up and away instead of becoming glued to the meat. If your bread crumbs are coarse then toss them into a food processor and whiz until they are fine. Not too fine though or you'll end up with flour.
In a shallow pie disk or pie plate whisk together the eggs along with a tablespoon of oil. Another secret to help create a crisp coating that won't adhere itself completely to the chop. Set this aside as well.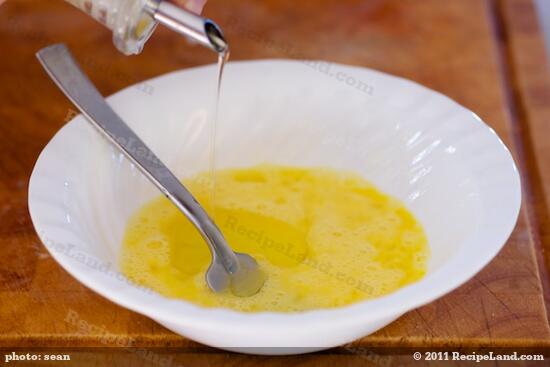 flour mixture and bread crumb mixture.">
Your bacon should be ready. Remove to paper toweling to drain. Reserve two tablespoons of fat in the pan.
Add the onions and sauté until beginning to become translucent, about 5 minutes.
Add the sliced mushrooms and continue to saute.
Meanwhile, trim the pork chops of fat if desired.
Place each chop between two pieces of plastic wrap and pound with a meat mallet or even a heavy pot until they are an even ¼ of an inch (7mm) thick. Season with salt and pepper.
Your mushrooms should be ready for the next step.
Add two tablespoons of flour to the skillet and mix, cooking for 1 to 2 minutes to make a roux.
While stirring constantly add the red wine and the beef stock. Reduce heat to medium-low and stir frequently at a low simmer to reduce and thicken, about 5 minutes.
Dip each pork chop, thoroughly coating, first in the seasoned flour. Using tongs dip in the egg wash and then into the bread crumbs. Set on a wire rack.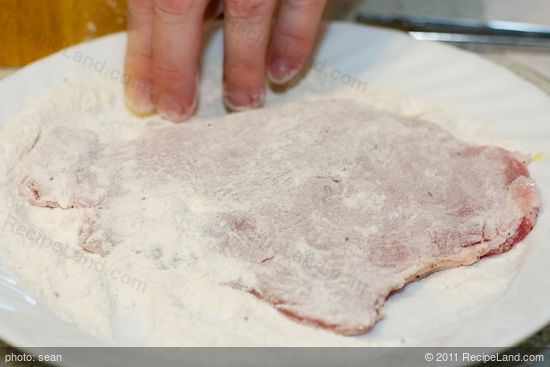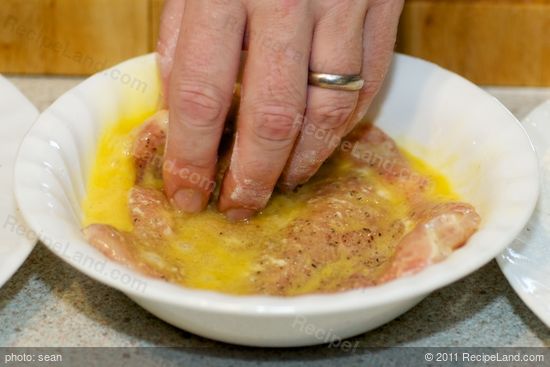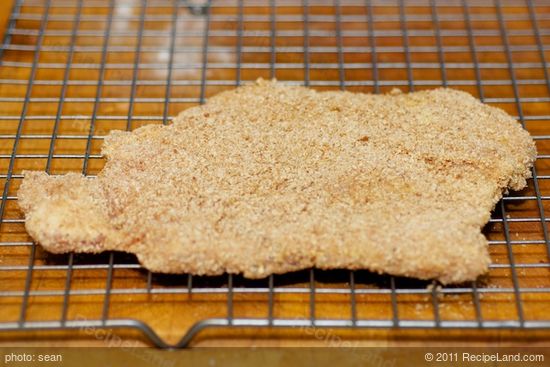 The secret to obtaining the best coating is to use an ample amount of oil for frying and ensure that it is well heated to very hot, just before smoking. The hot oil will help ensure that steam will prevent the coating from absorbing a lot of oil and becoming greasy.
Heat a cup of cooking oil in saucier pan (with high sides and big enough for frying) or a dutch oven.
Once the oil is hot carefully lay in each prepared schnitzel, cooking one at a time. Shake the pot and keep the schnitzel moving (mind the hot oil) about two minutes or until golden brown.
Turn the schnitzel over to brown the other side, about one minute. Remove, drain and place on a wire rack over a sheet pan in the warm oven to keep warm while you cook the rest of the schnitzels.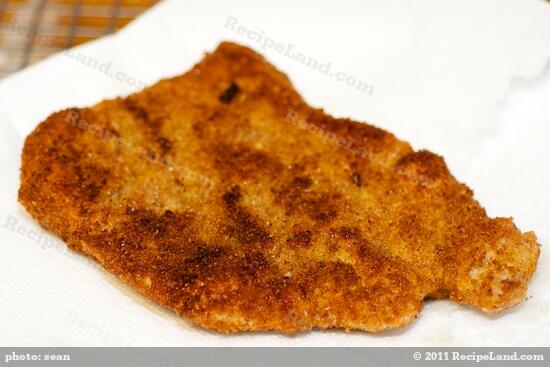 Add half and half (10%) cream to the sauce and combine.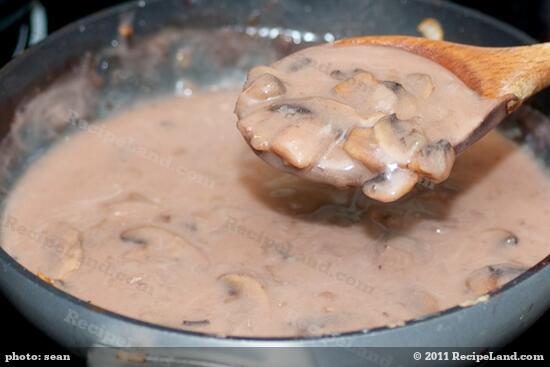 Remove the sauce from heat and add a small pat of butter to give it some added sheen if desired along with a grinding of fresh black pepper.
To serve:
Place a schnitzel on each plate. Divide the mushroom sauce among the plates, spooning over each of the schnitzels.
Top with the crispy bacon and parsley for color.
Serving with spatzel for an authentic touch or egg noodles work equally as well.
Nutrition Facts
Serving Size
487g
(17.2 oz)
Amount per Serving
Calories
930
54% of calories from fat
Trans Fat 0g
Total Carbohydrate
16
g
16%
Sugars g
Vitamin A 8%
•
Vitamin C 10%