Bacon survival guide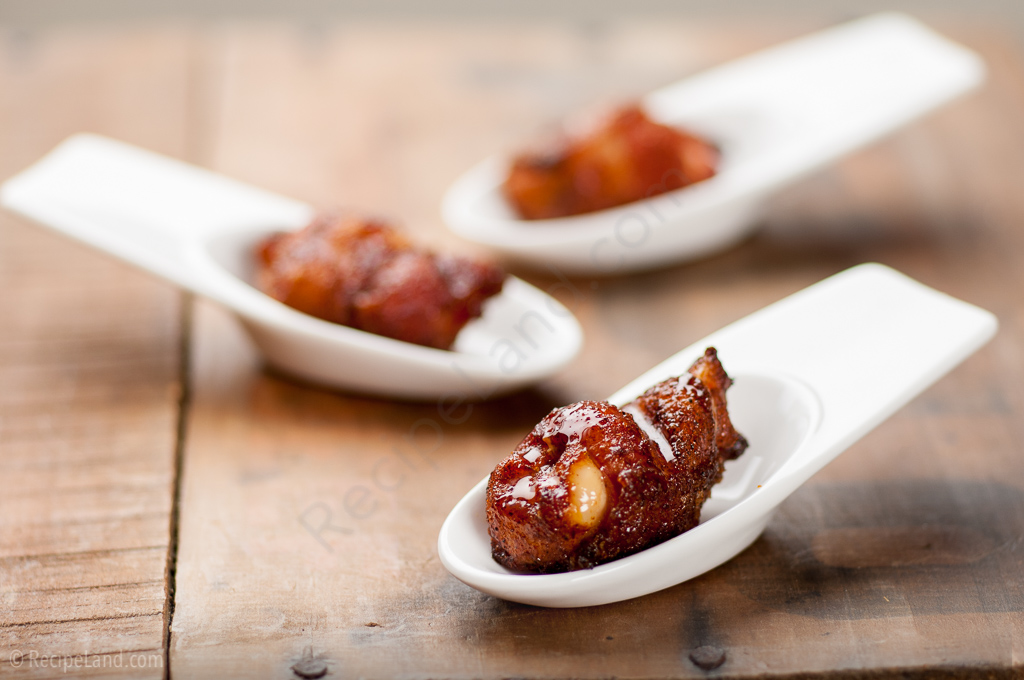 Bake your bacon! Tips and tricks for cooking bacon without splatter all over your stove, freezing techniques and more.
The traditional way of cooking bacon is to fry it in a skillet, but the high heat on the stove-top can make the bacon fat splatter all over the stove, not to mention onto you.
Roasting your bacon in the oven (as in Maple Coffee Glazed Bacon) applies more controlled lower heat, reduces splattering and shrinkage. It's also the best way to cook a large amount of bacon at once. You can then freeze the cooked bacon for a quick re-heat to save time later in the week.
Preheat your oven to 400 degrees F. Arrange the bacon slices on a large rimmed baking sheet (or jelly roll pan) in strips side by side. Bake for about 20 minutes or until crisp and brown. When cooking larger amounts, say the entire package at once, remove excess rendered fat as needed using a turkey baster.
Once delectably crispy transfer the slices to paper toweling to drain and pat dry if desired.
Freezing bacon
Bacon can be frozen for up to one month. The curing process of creating bacon affects the stability of the fat, which means that bacon can turn rancid even when frozen.
Wrap the bacon tightly in plastic wrap and then in aluminum foil. Storing in a zip-lock bag will add an extra layer of protection. If you have a vacuum packaging machine and can get all the air out of the bag bacon will last even longer in the freezer, 6 months or more. Air is the enemy here. Keep it well sealed and it can be stored much much longer.
Roll it up!
For easily removing one or more slices at a time, roll each strip of bacon into a spiral.
Freeze individually on a baking sheet. You can then transfer the individually frozen "balls" of bacon into a zipper bag and store in the freezer. This makes it easy to remove a single slice at a time.
Bacon bits
If you are creating crumbled bacon in a skillet there is no need to cook the strips whole and then break them up.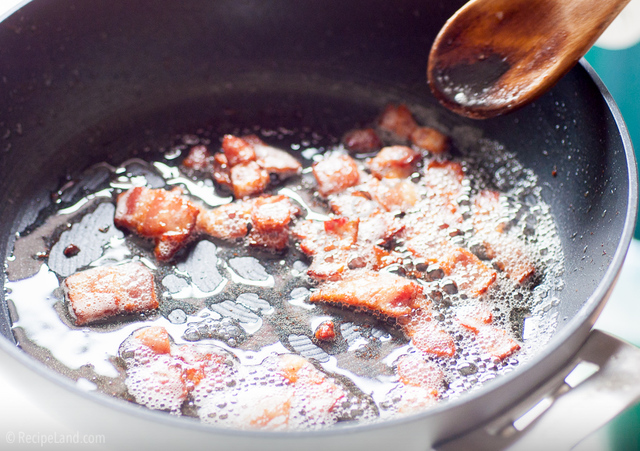 Cut the uncooked bacon into ½ inch to 1 inch (2 cm) pieces and fry them up pre-crumbled. This works directly from frozen as well. Cut the spiral frozen bacon into 4 pieces, across the grain, add them to the skillet, cook until crispy and voila, one single strip of crumbled bacon bits becomes quick and easy.
You can also cook up and entire package of bacon into bacon bits, drain, dry and toss them into a freezer bag. Pre-cooked bacon will store extremely well in the freezer for up to 6 months.
Bacon recipes
Once you've fine-tuned your bacon managment skills there are loads of bacon recipes here. One strip or two?