Cheesy Crispy Potato and Zucchini Pancakes
An easy and delicious way to make zucchini into a delicious dish. Serve it with yogurt, sour cream or any your favorite sauce.
Directions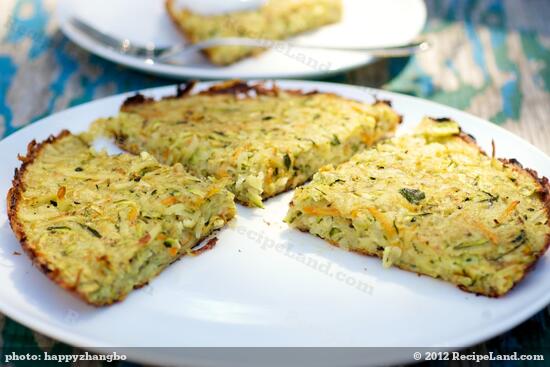 Place an oven rack in the center of the oven. Preheat the oven to 450℉ (230℃).
Prepare a baking sheet coated with cooking spray, set aside. Lay the grated potatoes and zucchini on 2 kitchen towels.
Bring the corners of the towels together and squeeze out the extra water from the vegetables. Place the vegetables in a large bowl.
Add the garlic, chopped rosemary, ¼ cup Parmesan cheese, bread crumbs, egg, salt, and pepper. Mix until all ingredients are well combined.
In a 12-inch nonstick skillet, heat the olive oil or vegetable oil over medium heat. Add the vegetable mixture to the pan.
Using a spatula, press the mixture evenly into the pan. Drizzle the top with olive oil and sprinkle with the remaining 1 tablespoon Parmesan cheese.
Cook for 8 minutes or until the edges of the mixture begin to brown. Slide the pancake, cooked side down, onto the prepared baking sheet.
Bake for 20 to 25 minutes or until the top of the pancake starts to brown and the edges are crispy.
In a small bowl, beat the mascarpone or sour cream or yoghurt until smooth and season with salt and pepper, to taste.
Cut the pancake into 1½-inch squares and arrange on a serving platter make 32 pancakes.
Pipe or spoon the seasoned mascarpone or sour cream or yoghurt on top and garnish with a few fresh rosemary leaves.
Nutrition Facts
Serving Size
93g
(3.3 oz)
Amount per Serving
Calories
99
28% of calories from fat
Trans Fat 0g
Sugars g
Vitamin A 2%
•
Vitamin C 20%