Asparagus & Mushroom Strudel
Directions
Preheat oven to 350℉ (180℃).
Heat half the oil in a large skillet over medium-high heat, add shallots and sauté for 60 seconds.
Add the mushrooms and ¼ teaspoon of salt and sauté for 10 to 12 minutes or until most of the moisture has evaporated.
Mix in asparagus and sauté until slightly tender, about 2 or 3 minutes.
Cool slightly, then mix in the parsley, lemon zest, lemon juice, pepper and 3 tablespoons of Parmesan cheese.
Mix well, taste and adjust seasoning if needed and set aside.
Working on a clean surface, brush the first sheet of phyllo with olive oil and sprinkle with ¼ teaspoon of thyme.
Repeat with remaining phyllo sheets, stacking one top of the other with the longer sides parallel to the counter's edge.
Place filling along the longer edge of phyllo and roll into a log, tucking in the sides to prevent mixture from falling out.
Carefully place on a baking sheet that has been sprayed with cooking spray or line with parchment paper.
Brush strudel with olive oil and top with Parmesan cheese
Cut three diagonal slits width-wise into top of strudel.
Bake for about 17 minutes or until golden brown.
Cool slightly.
Slice where strudel is slit to make four equal portions.
Serve warm.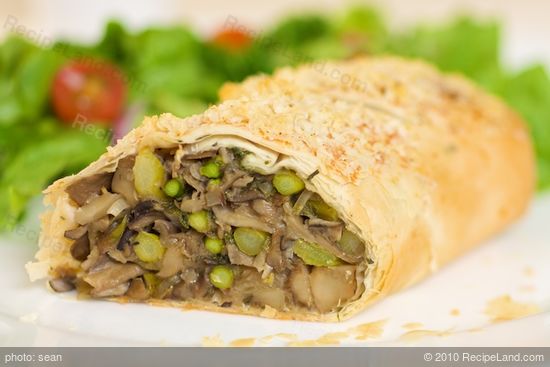 ---
---