Caramelized Onion, Mixed Mushroom and Gruyere Pie
.
Directions
Preheat the oven to 400℉ (200℃). Spray a 9-inch pie dish with cooking spray.
For the crust:
Place the oats, flour and salt in the bowl of a food processor and pulse 3 times to combine.
Add the butter and pulse about 14 times, until you get a pebbly course texture. Add the buttermilk and pulse 3 to 5 times more to combine.
Form the mixture into a ball and place it between 2 large pieces of waxed paper. Roll out into a circle about 10 inches in diameter. Remove the top sheet of waxed paper.
Transfer the crust, still on the other piece of waxed paper to the pie dish, then remove the waxed paper from the top. Press the crust gently into the dish. Bake for 9 minutes, then let cool.
For the filling:
Heat 2 teaspoons of oil in a large nonstick pan over a medium-low heat.
Stir in the onion and cook, stirring occasionally, until golden brown and caramelized, about 20 minutes. Transfer the onions to a bowl.
Add the remaining 2 teaspoons of oil to the pan and heat over a medium-high heat.
Add the mushrooms and cook, stirring occasionally, until they have released their water and begin to brown, about 6 minutes.
Add the onions back to the pan, then add the salt, pepper, mustard and thyme.
In a medium bowl whisk together the eggs, egg whites and evaporated milk. Sprinkle the cheese into the pie crust. Top with the mushroom-onion mixture and pour the egg mixture on top.
Reduce oven temperature to 350℉ (180℃). Bake for 35 minutes or until knife or wooden stick inserted in the middle comes out clean. Let stand for 5 a few minutes before serving.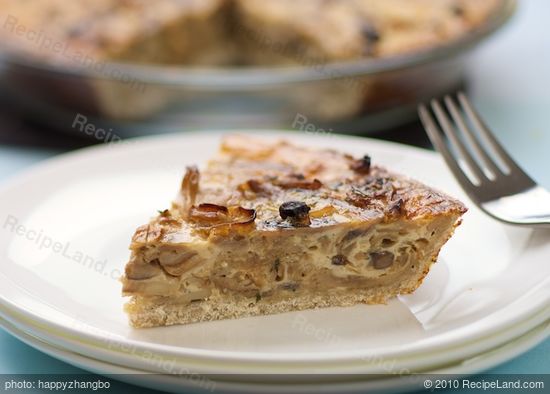 Nutrition Facts
Serving Size
154g
(5.4 oz)
Amount per Serving
Calories
315
48% of calories from fat
Trans Fat 0g
Sugars g
Vitamin A 10%
•
Vitamin C 4%