Oatmeal Chocolate Chip Cookies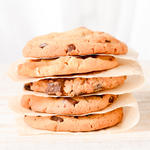 Oatmeal cookies with chocolate chips and orange flavor. Makes 24-36 cookies, depending on how big you make each one. 1 cookie per serving.
Metric
Directions
Preheat oven to 350℉ (180℃) F (175 degrees C). Grease cookie sheets. Stir together the flour, salt, and baking soda. Set aside.
In a medium bowl, cream together the butter and brown sugar, then stir in the egg, water, orange juice, and vanilla. Mix in the flour mixture, then stir in the oats.
Now add in your favorite accents. I like craisins, walnuts, and orange zest or dark chocolate chunks with or without the craising or walnuts. I usually guess how much to add on what looks right for my tastes.
Drop by teaspoonfuls onto the prepared cookie sheets. Cookies should be about 2 inches apart. Bake for 12 to 15 minutes in the preheated oven. Remove from baking sheets to cool on wire racks.