Easy Chocolate Raspberry Mousse
A very chocolatey raspberry easy chocolate mousse recipe. A simple dark chocolate mousse that uses just 3 ingredients and is unbelievably smooth, rich and decadent.
Directions
How to make chocolate mousse
Melt the chocolate very gently, either using a microwave (one or two minutes at the most on high) or in the top of a double boiler. Stir occassionaly while allowing to cool completely, yet remain in a liquid state.

Pureé the raspberries and press through a fine mesh sieve to yield about ¼ cup of seedless raspberry pureé. Stir into the cooled chocolate.

In a chilled bowl, using a whisk or mixer, whip the heavy cream until peaks form. Whisk ¼ of the whipped cream into the raspberry chocolate mixture. Gently fold in the remaining whipped cream until just combined.

Lightly grease four ½ cup ramekins or custard cups, and line with parchment paper rounds. Spoon in the chocolate mousse. Cover and refrigeration until firm (about 2 hours).The mousse can be held, refrigerated for up to 2 days.
How to serve chocolate mousse
Run a thin knife around the edges of each ramekin (it may help to dip the ramekins in hot water for 30 seconds to loosen), then turn out onto the center of dessert plates; remove the parchment paper and dust lightly with icing sugar.
For an even more impressive presentation, garnish with a few fresh or barely thawed raspberries, or whipped cream and/or prepare a raspberry coulis (strained raspberry pureé).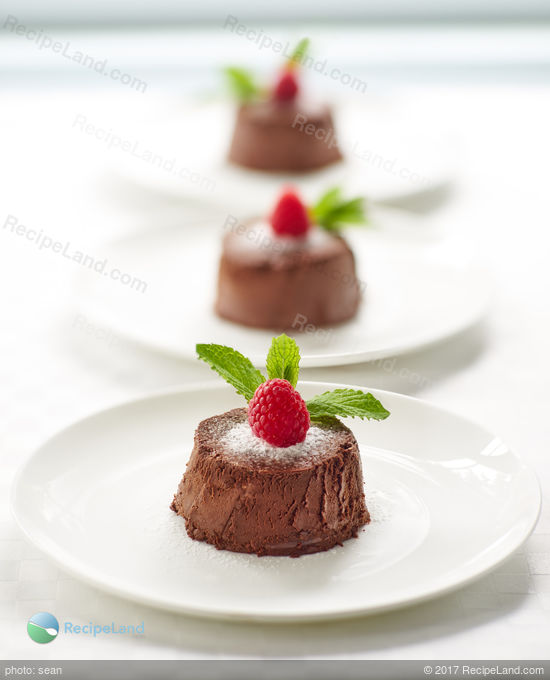 Nutrition Facts
Serving Size
86g
(3.0 oz)
Amount per Serving
Calories
309
76% of calories from fat
Trans Fat 0g
Sugars g
Vitamin A 13%
•
Vitamin C 5%