Chilled Vegetable Soup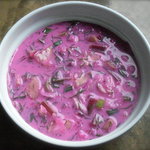 great dish when it is hot outside and/or inside.. sometimes a main dish with separately served potatoes, often with meat or sausages.. I like to serve it as a side dish to grilled food.. similar to Lithuanian chilled beat soup, which is fantastic, however they add a lot of cream, hard boiled eggs and do not add radish rather..
Metric
Directions
1 - Pour water into a pot, add beet, lovage, marjoram, allspice, bay leaf, bring to boil and simmer for about 20 minutes. In the meantime add ½ teaspoon of salt, and 3 teaspoon of sugar. At the end add 1 teaspoon of lemon juice and adjust salt and sugar if needed. Set aside to cool for an hour. Remove bay leaf and sprigs. 2 - Find a big bowl, 1½ litre at least, toss in cucumber, radish, onion, chives, sprinkle 1 teaspoon of salt and ½ teaspoon of ground pepper. Mix gently using a spatula and set aside for and hour. Stir from time to time. 3 - Add chilled beet soup to you bowl, add kefir, buttermilk or yogurt, stir gently until combined. Season with salt and pepper. Chill it in the fridge. Serve cold.