Spicy Korean Noodles with Wild Mushrooms
Ingredients
Amount
Measure
Ingredient
Features
5
ounces
noodles
sweet potato noodles
2
teaspoons
vegetable oil
divided for cooking
4
scallions, spring or green onions
sliced
*
1
inch
ginger
freshly and finely chopped
*
4
cloves
garlic
freshly minced or finely chopped
Mushrooms
2
ounces
enoki mushrooms
1 small package, ends trimmed and separated
*
3
ounces
mushrooms, wild
small brown, 1 small package, ends trimmed ad separated, eg. hen of the woods or portabellini
*
1
cup
mushrooms, oyster
ends trimmed and separated into small pieces if too big
*
2
ounces
mushrooms, shiitake
ends removed and sliced
Vegetables
1
carrots
peeled and slice into match sticks
*
2
red chili peppers
freshly seeded and thinly sliced
*
2
green chili peppers
or jalapeno, freshly seeded and thinly sliced
*
1
pound
bok choy
ends trimmed, wash well, drain and thinly sliced
4
ounces
snow pea pods
slice into half, about 1/2 cup
½
large
english cucumber
or 1 small one, slice into match sticks
*
½
bunch
radishes
slice into match sticks or half moon
*
Korean sweetspicy sauce
3
tablespoons
soy sauce, tamari

2
teaspoons
olive oil, extra-virgin
or grape-seed oil, walnut oil, canola oil
1
tablespoon
chili powder
Korean red chili powder, or to your own taste
2
tablespoons
rice vinegar

2
tablespoons
mirin (sweet seasoning)
or sugar, or honey
*
1 ½
tablespoons
sesame seeds
toasted
¼
teaspoon
sesame oil
or as needed
Ingredients
Amount
Measure
Ingredient
Features
144.5
ml/g
noodles
sweet potato noodles
10
ml
vegetable oil
divided for cooking
4
each
scallions, spring or green onions
sliced
*
1
inch
ginger
freshly and finely chopped
*
4
cloves
garlic
freshly minced or finely chopped
Mushrooms:
57.8
ml/g
enoki mushrooms
1 small package, ends trimmed and separated
*
86.7
ml/g
mushrooms, wild
small brown, 1 small package, ends trimmed ad separated, eg. hen of the woods or portabellini
*
237
ml
mushrooms, oyster
ends trimmed and separated into small pieces if too big
*
57.8
ml/g
mushrooms, shiitake
ends removed and sliced
Vegetables:
1
each
carrots
peeled and slice into match sticks
*
2
each
red chili peppers
freshly seeded and thinly sliced
*
2
each
green chili peppers
or jalapeno, freshly seeded and thinly sliced
*
453.6
g
bok choy
ends trimmed, wash well, drain and thinly sliced
115.6
ml/g
snow pea pods
slice into half, about 1/2 cup
0.5
large
english cucumber
or 1 small one, slice into match sticks
*
0.5
bunch
radishes
slice into match sticks or half moon
*
Korean sweetspicy sauce:
45
ml
soy sauce, tamari

10
ml
olive oil, extra-virgin
or grape-seed oil, walnut oil, canola oil
15
ml
chili powder
Korean red chili powder, or to your own taste
30
ml
rice vinegar

30
ml
mirin (sweet seasoning)
or sugar, or honey
*
23
ml
sesame seeds
toasted
1.3
ml
sesame oil
or as needed
Directions
Bring a large pot of water to a boil, then soak the sweet potato noodles in the boiling water for 10 minutes. Rinse with cold water, drain well and mix with a little bit salad oil. Cut the noodles if they are too long. Set aside.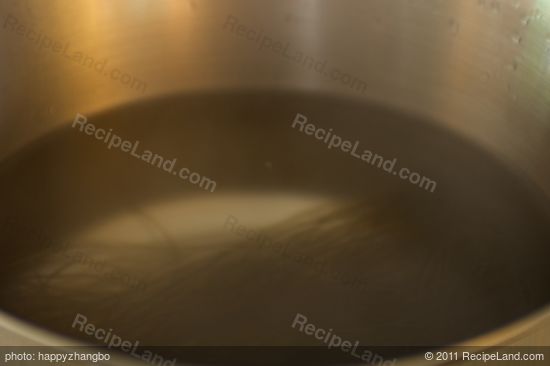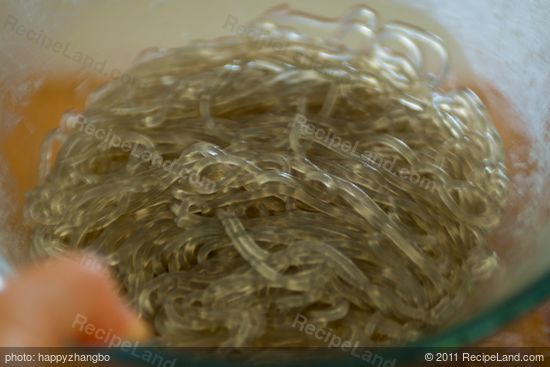 To cook the mushrooms:
Heat 1 teaspoon of oil in a large nonstick skillet until hot. Add half of each scallions, gingers and garlic, stirring constantly, cook about 40 seconds.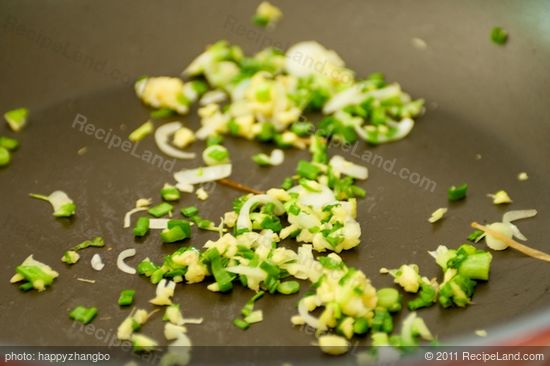 Stir in the prepared assorted mushrooms, and cook for about 6 minutes, until volume is reduced to half, part of the water has been evaporated but still moist. Add 1 teaspoon or so toasted sesame seeds, stirring, and cook for another 1 or 2 minutes, until the mushrooms are browned in spots. Transfer the cooked mushrooms into a bowl and set aside.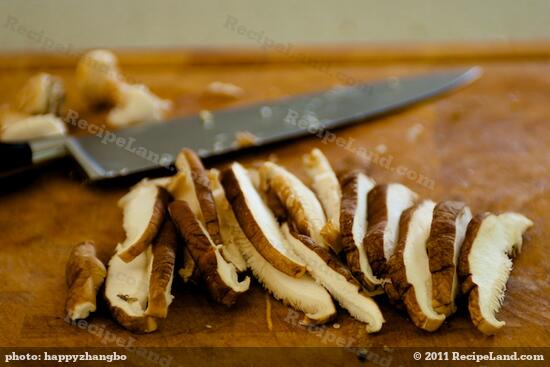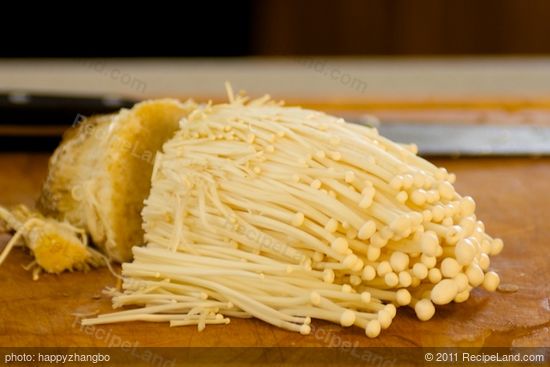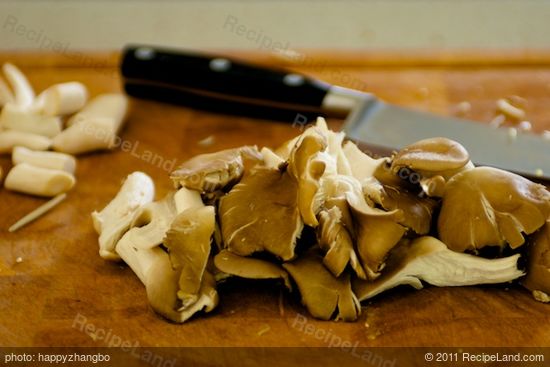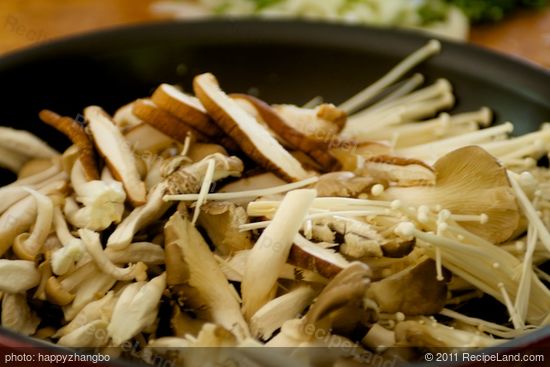 To cook the vegetables:
Heat another 1 teaspoon of oil in the same skillet until hot. Add the remaining scallions, ginger and garlic, stirring, and cook for about 1 minute.
Stir in the carrots, red and green chili peppers, cook for 3 to 5 minutes, until the vegetables are tender but still crisp. Add the bok choy, stirring, and cook for another 3 to 4 minutes, until the bok choy is wilted and tender. Stir in the snow peas, remove from the heat.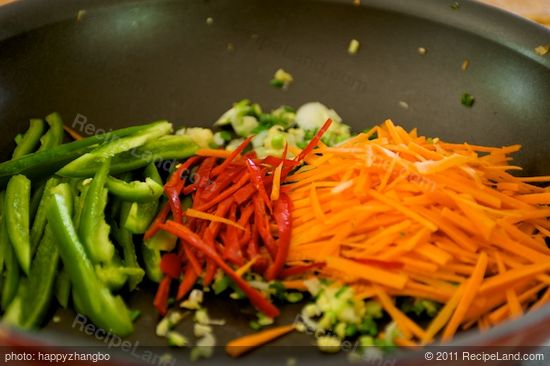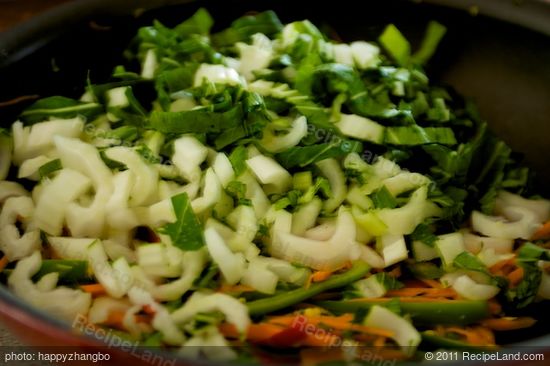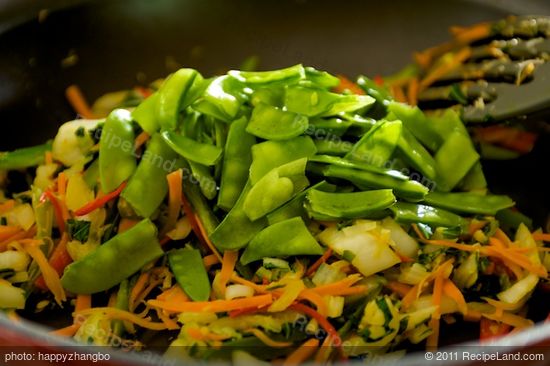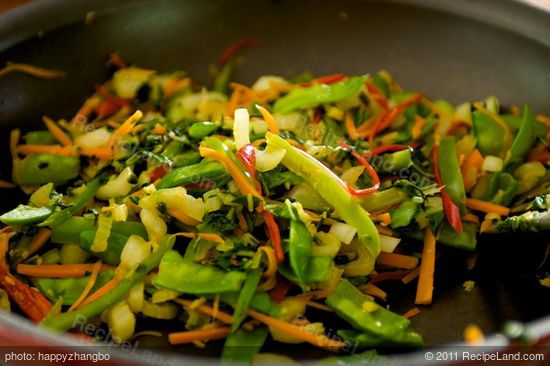 To make the Korean spicy-sweet sauce:
While the vegetables are cooking, mix together the soy sauce, oil, vinegar, chili powder, mirin or sugar, sesame seeds and sesame oil in a small bowl until well blended. Set aside.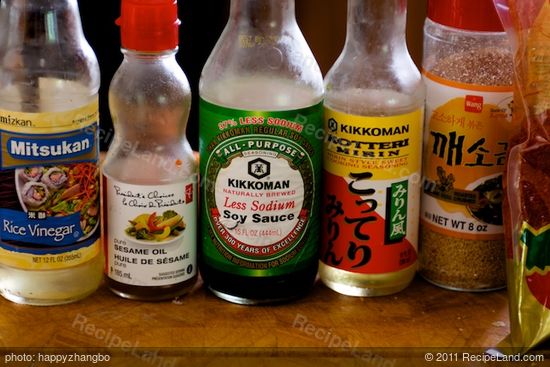 To put everything together:
Add the cooked sweet potato noodles, cooked mushrooms, cooked vegetables, cucumber and radishes into a large mixing bowl.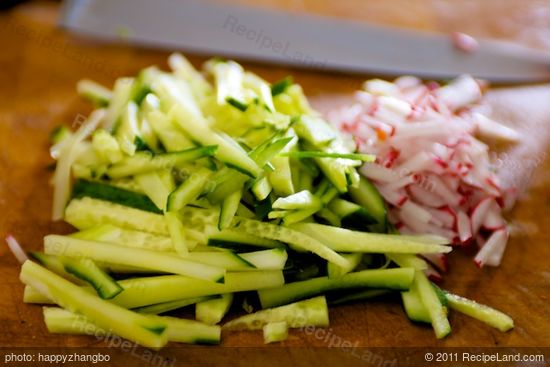 Pour the dressing over and toss with your hands until well mixed and evenly coated.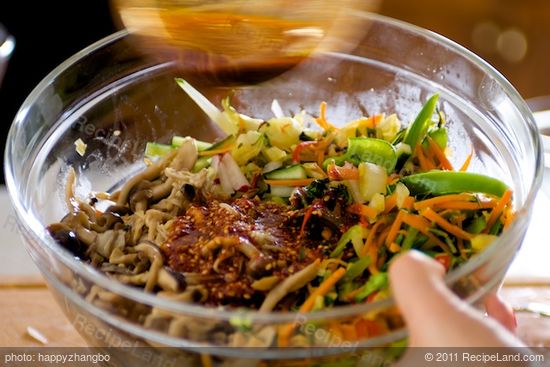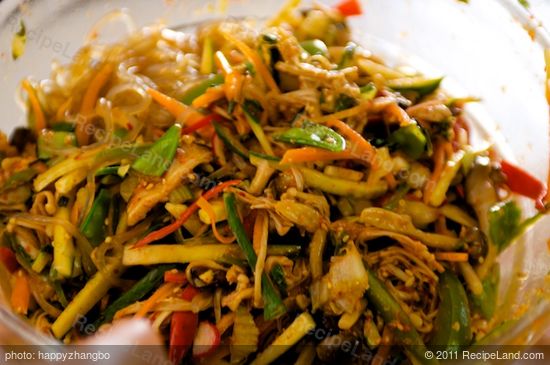 Sprinkle some toasted sesame seeds on top and season with more soy sauce, vinegar, chili pepper or sugar to taste if desired. Serve warm, room temperature or chilled.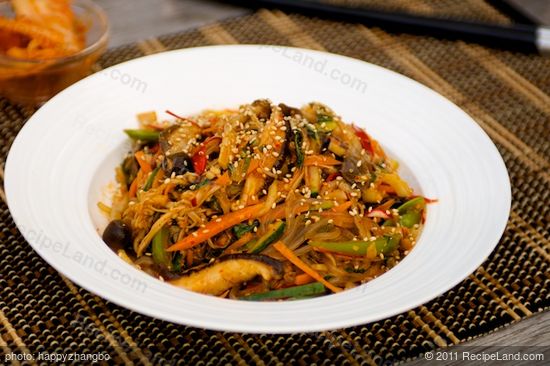 ---
---