Silky Pumpkin Mousse Pie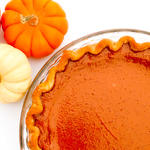 Pumpkin Mousse Pie recipe
Metric
Directions
In a 2 cup measure combine the milk and cornstarch.
Microwave uncovered on full power until very hot but not boiling, about 1 minute.
Combine the egg whites, pumpkin purée, sugar, cinnamon, nutmeg, zest and juice in a processor and whiz until smooth.
With the motor running, pour in the milk mixture.
Then scoop the mixture into the pie crust and chill until set, at least 2 hours.
Great with crunchy oat sprinkles.