Prize-winning Lemon Blueberry Muffins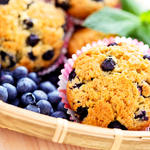 Prize-winning Lemon Blueberry Muffins recipe
Metric
Directions
Heat oven to 375-F. Grease twelve 3-inch muffin-pan cups.
In large bowl, combine flour, sugar, baking powder, baking soda, and salt, and add cloves, if desired.
Add blueberries and toss to coat with flour mixture; set aside.
In medium-size microwave-safe bowl, microwave butter on medium (50 percent) for 10 to 15 seconds or until melted.
Cool slightly, then add yogurt, egg, lemon rind, and lemon and vanilla extracts; beat until blended.
Stir yogurt mixture into flour-berry mixture just until blended and divide batter among muffin-pan cups.
Bake 20 to 25 minutes or until muffins spring back when gently pressed with finger-tip.
Cool in pan on wire rack 5 minutes.
Remove muffins from cups and serve warm.