Potato Latke Muffins
This oven baked potato latke recipe uses a muffin pan to oven-fry the latkes, reducing the oil and still achieving shatteringly crispy potato latkes with creamy interiors.
Directions
Preheat oven to 350℉ (180℃) F. Coat a 12-cup muffin pan generously with non-stick cooking spray.

Peel potatoes, grate them through the large holes of a box grater into a large bowl. Then squeeze grated potatoes in small batches between your hands over the sink to remove excess water. (See section below for extra crispy potato latkes)

Grate onion into the same bowl through the same holes. Stir in garlic, basil, egg and egg white, cheese, oil, salt and pepper to taste.

Place ⅓ cup of the potato mixture into each muffin cup, firmly packing the mixture. Bake the potato latkes in the oven until lightly crispy, browned and firm, about 50 minutes.
Cool them in the pan on a wire rack for 10 minutes.
How to serve latkes
Serve potato latkes warm, with sour cream, applesauce or Cranberry Apple-Pear Sauce.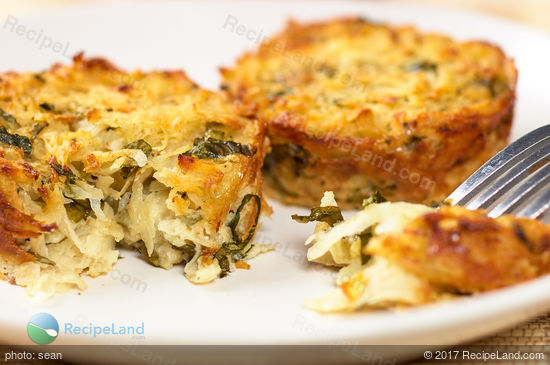 Best potatoes for latkes
The best potatoes for latkes are russet potatoes. We like to scrub them clean and leave them unpeeled before shredding on a box shredder. This incorporates bits of potato skin throughout the latke providing a significant boost to the potato flavor.
Extra crispy potato latkes
To achieve latkes that are light but not greasy with creamy interiors and a crispy potato outer shell, remove as much water as possible from the shredded potatoes before cooking.
Wring the shredded potatoes in a kitchen towel which will remove excess moisture. Then microwave the shredded potatoes for 30 seconds on high, fluff with a fork and repeat until the potatoes are just warmed through but not hot. This process will release more moisture from inside the potato shreds and cause the starch in the potatoes to form a gel.
Nutrition Facts
Serving Size
205g
(7.2 oz)
Amount per Serving
Calories
237
30% of calories from fat
Trans Fat 0g
Total Carbohydrate
12
g
12%
Sugars g
Vitamin A 2%
•
Vitamin C 25%