Cheesy Sweet Potato and Red Onion Tart
The herb roasted veggies make this dish a huge hit. The nutty and olive-oil crust comes out perfectly flaky and delicious. Great comfort food that everyone enjoys.
Directions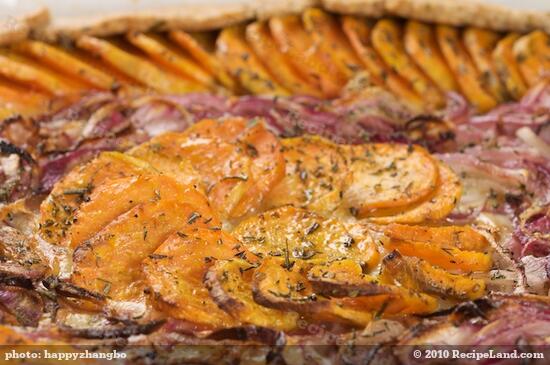 Preheat oven to 425℉ (220℃) F.
To prepare crust:
Put walnuts in a food processor, pulse until finely ground.
Mix in a large bowl with whole-wheat flour, all-purpose flour, 2 tablespoons thyme and/or rosemary, ¾ teaspoon each salt and pepper.
Make a well in the center and add ½ cup oil and water.
Gradually add the wet ingredients into the dry ingredients to form a soft dough (it will seem wetter than other types of pastry dough).
Knead in the bowl just until the dough comes together.
Pat it into a disk, wrap in plastic and refrigerate for at least 15 minutes or up to 3 days.
To prepare filling:
Add sweet potatoes, 1 tablespoon oil, ½ teaspoon salt and ¼ teaspoon pepper in a large bowl and stir well.
Spread on three-fourths of a large rimmed baking sheet.
Toss onion in the bowl with 1 teaspoon oil.
Spread evenly on the remaining one-fourth of the baking sheet.
Roast for 10 minutes. Remove from the oven.
Reduce temperature to 375℉ (190℃) F.
Line a work surface with parchment paper or a nonstick baking mat, lightly dust with flour and dust the top of the dough with flour.
Roll the dough into a rustic 15-inch circle, adding more flour, if necessary, to prevent sticking.
Transfer the crust to a baking sheet with the parchment or baking mat.
Leaving a 2-inch border, sprinkle cheese evenly over the crust.
Make an overlapping ring of the larger sweet potato slices over the cheese, leaving the 2-inch border.
Spread the onion slices evenly in another ring closer to the center.
Using the rest of the sweet potato slices, make an overlapping circle in the center of the crust (the pattern will look like a bull's-eye).
Pick up the edges of the crust using a spatula and fold over the filling, making pleats in the dough as necessary (it's okay if the dough cracks a little as you fold it); the filling will not be completely covered.
Brush the crust with the egg-white wash.
Drizzle the vegetables with the remaining 1 teaspoon oil and sprinkle with 1 teaspoon thyme and/or rosemary.
Bake the tart until lightly browned on the edges, about 50 minutes.
Cool for about 8 minutes. Slice and serve warm.
Nutrition Facts
Serving Size
164g
(5.8 oz)
Amount per Serving
Calories
339
48% of calories from fat
Trans Fat 0g
Total Carbohydrate
12
g
12%
Sugars g
Vitamin A 220%
•
Vitamin C 22%