Amazing Mediterranean Zucchini Muffins
These savory Mediterranea muffins are super delicious, chunks of feta cheese, sun-dried tomatoes, olives, caramelized onions and roasted bell pepper are all in one bite. We are inspired by watching master chef Australia, they were making savory zucchini muffins; then we came out our own idea to make these savory Mediterranean zucchini muffins that are packed with flavors and yummy ingredients, ideal breakfast, snack or served as a side along with main course.
Ingredients
1
tablespoon

olive oil




2
cloves

garlic


or as needed, freshly minced

1

onions


chopped into about 1/4-inch cubes

½
cup

sundried tomatoes


oil packed, drained and chopped

½
cup

roasted red bell peppers


drained and chopped

¼
cup

olives


black or green, cored and chopped

*

black pepper


freshly ground, as needed

*

Dry ingredients
2 ¼
cups

whole-wheat pastry flour


or half white flour and half whole wheat flour

¼
cup

cornmeal




2
teaspoons

baking powder




1
teaspoon

baking soda




3
tablespoons

basil


leaves, freshly chopped, or 1 teaspoon dried

2
tablespoons

oregano


freshly chopped, or 1/2 teaspoon dried

*

Wet ingredients
½
cup

milk


whole milk or low-fat

½
cup

yogurt, plain




½
teaspoon

red hot pepper sauce


or as needed

*

2
large

eggs




1
tablespoon

butter


melted

1
tablespoon

olive oil, extra-virgin




1
cup

feta cheese


crumbled

1
medium

zucchini


shredded, about 2 cups, excess water squeezed

*
Directions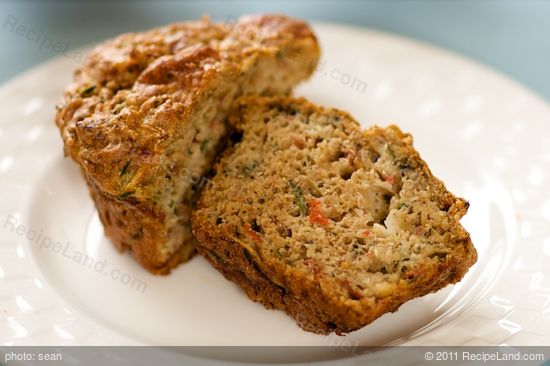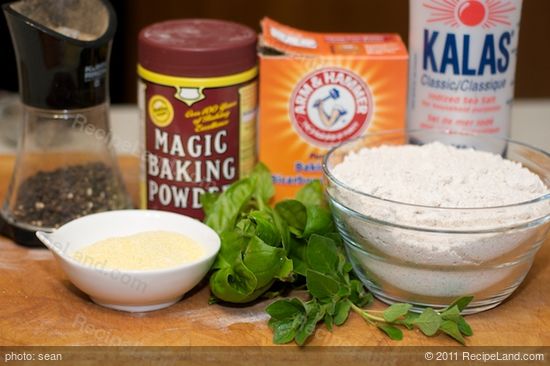 Heat the oil in a medium nonstick skillet over medium heat until hot. Add the garlic and onions, stirring once 3 to 4 minutes, and cook until the onions are browned and caramelized about 15 minutes. You may need to reduce the heat to medium-low half way through the cooking.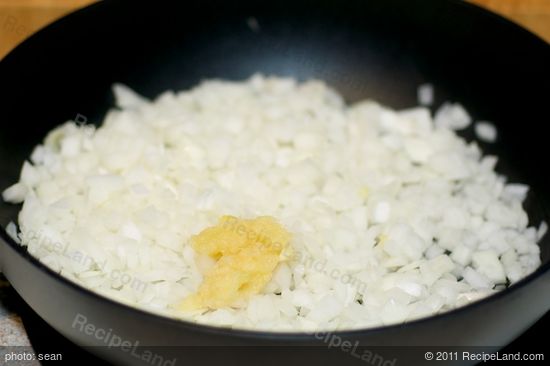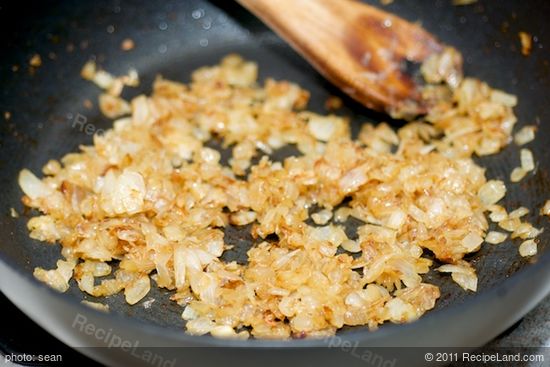 Remove from the heat, stir in the sun-dried tomatoes, olives, and roasted peppers, season with black pepper; because all these a few ingredients are salty, you don't have to add extra salt.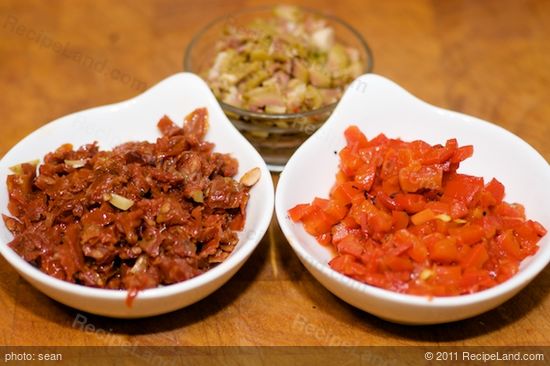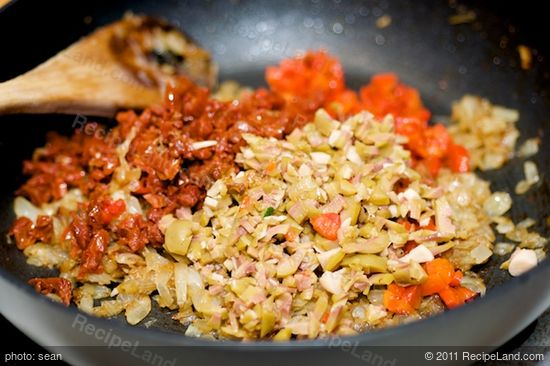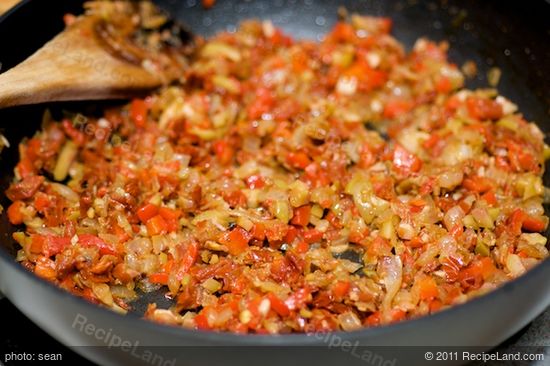 Preheat the oven to 375℉ (190℃). Grease a 12-muffin pan with butter or line with paper liners.
While the onions are cooking, add all the dry ingredients into a large mixing bowl, and whisk until well mixed. Stir in the caramelized onion and sun-dried tomato mixture until well combined.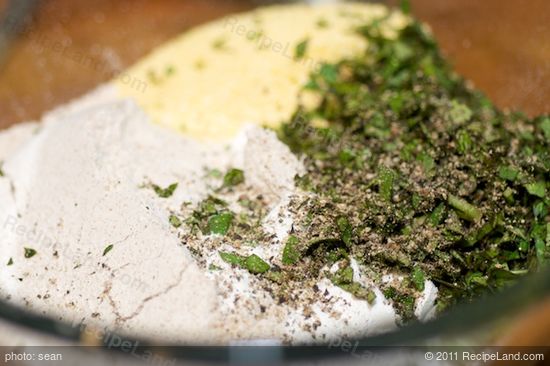 Add all the wet ingredients into another medium bowl, and mix well. Pour the wet ingredients into the dry ingredients, and stir until well combined.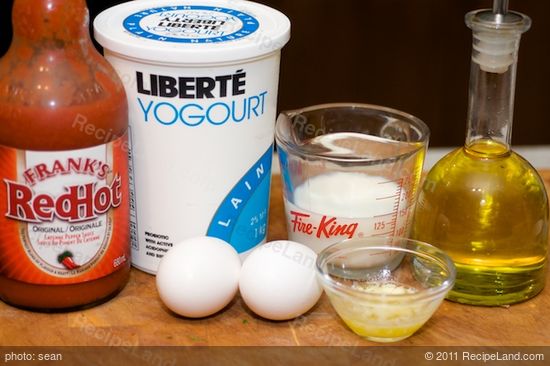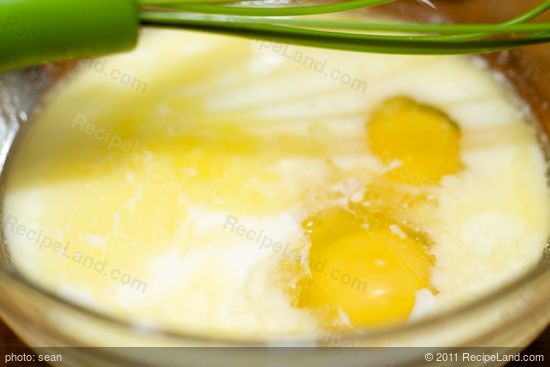 Stir in the zucchini until well mixed. Spoon the batter into each muffin cup, it's going to be quite full.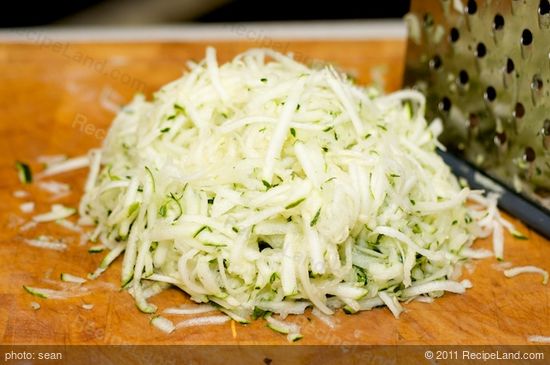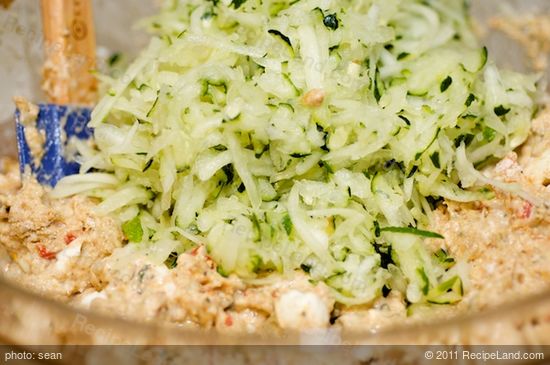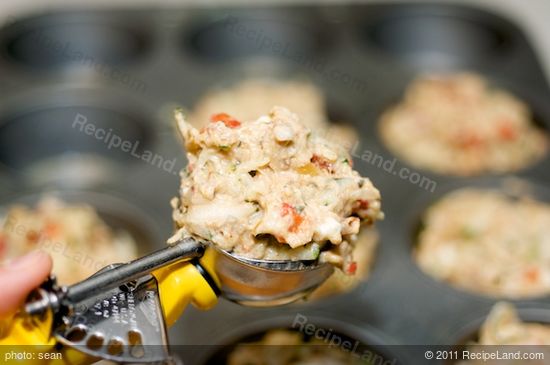 Bake for about 40 minutes until the top becomes golden and brown, inserting a wooden stick comes out almost clean. Let cool in the pan on a wire rack for about 15 minutes. Remove from the pan and let muffins cool completely on the wire rack.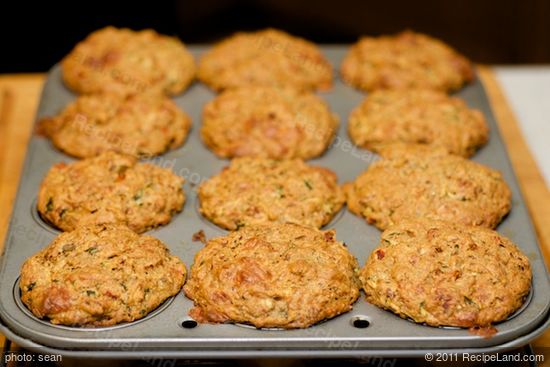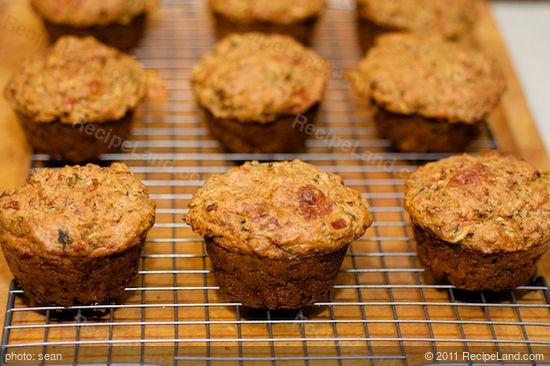 Store at an air-tight container for up to a few days, or they can be frozen in the freezer up to 1 month.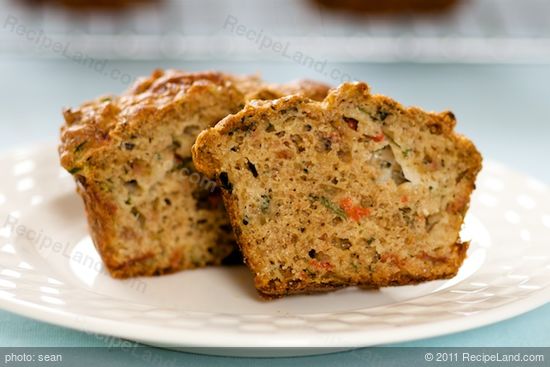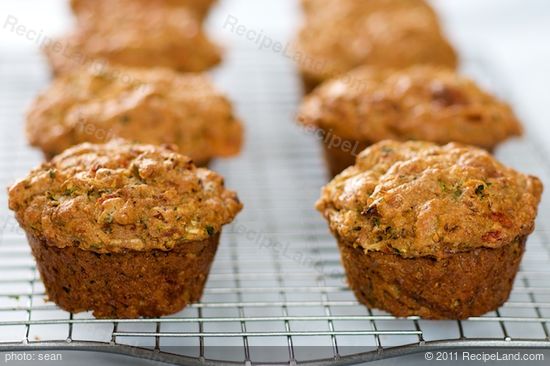 Nutrition Facts
Serving Size
94g
(3.3 oz)
Amount per Serving
Calories
198
34% of calories from fat
Trans Fat 0g
Sugars g
Vitamin A 9%
•
Vitamin C 17%