Stephanie Marquesano's Potato Latkes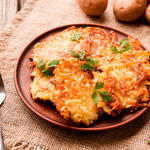 Not exactly traditional, but these crispy latkes will make every night of Hanukah a delicious one!
Metric
Directions
Place a colander in sink.
Shred peeled potatoes in food processor.
Frequently move shredded potatoes from bowl to colander.
It is critical to keep squeezing the liquid out of the shredded potatoes to keep them from turning brown.
Beat eggs in small bowl.
Add salt and pepper.
Heat about an inch of oil over high flame in your favorite frying pan.
Add egg mixture to well squeezed potatoes.
Add flour by feel, the goal is to enable the pieces of shredded potato to stick together and form a pancake.
When oil is bubbling, lower flame.
Make pancakes about 3 inch circles.
Turn when golden brown, remove when both sides are done.
First batch will always take longer.
Carefully remove burnt little pieces and replenish oil as needed
Serve with sour cream and applesauce!