All-Day-Long Potato Soup
Easy crock pot potato soup. Serve with chopped green onions and slice cheddar cheese. SUPERB! Absolutely wonderful.
Directions
Place the first six ingredients in your slow cooker and cook all day on the low setting.
About ½ to one hour before serving; add milk and flour mixture.
Once the soup starts to thicken, it is ready to serve.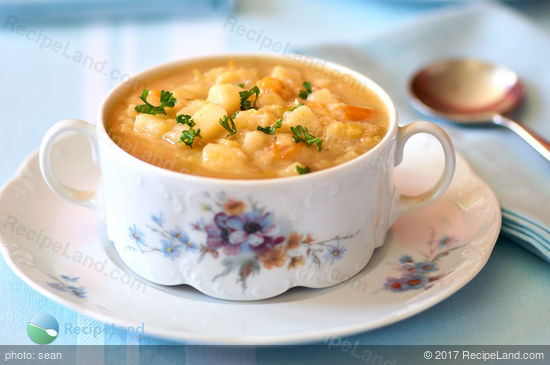 This simple slow cooker potato soup from scratch is a mainstay in our family. We frequently vary the recipe as follows:
Cheesy Potato Soup
Stir in ¼ pound (125 g) of shredded cheese just prior to serving for cheese potato soup. A can of evaporated milk may be substituted for the regular milk.
Homemade Potato Soup with Bacon
When serving, top with crispy bacon bits. To further infuse with bacon into the soup, cook the onions and 2 slices of bacon, cut into lardons, ¼ inch (½ cm) strips. Then add the bacon and onions to the crockpot with the remaining ingredients in the first step. Voila, bacon potato soup.
Bacon & Cheese Potato Soup
Combine cheese and bacon as noted in both variations above.
Nutrition Facts
Serving Size
449g
(15.8 oz)
Amount per Serving
Calories
241
16% of calories from fat
Trans Fat 0g
Total Carbohydrate
15
g
15%
Sugars g
Vitamin A 5%
•
Vitamin C 26%