Amazing Southern Living Sweet Potato Casserole
This delicious sweet potato casserole impresses everyone. It's creamy but not too rich, it's sweet but not too heavy. The candied pecan topping adds the extra crunchiness and nuttiness, a great side dish to share on your Thanksgiving table.
Directions
Place sweet potatoes in a large saucepan and cover with water. Bring to a boil.
Cover and cook over medium heat until tender, 10 to 15 minutes. Drain well and return to the pan. Mash with a potato masher. Measure out 3 cups. (Reserve any extra for another use.)
Preheat oven to 350°F.
Coat an 8-inch-square (or similar 2-quart) baking dish with cooking spray.
Whisk eggs, oil and honey in a medium bowl. Stir into mashed sweet potato and mix well. Stir in milk, orange zest, vanilla and salt.
Spread the mixture in the prepared baking dish.
For the topping:
Combine together flour, brown sugar, orange juice concentrate, oil and butter in a small bowl.
Blend with a fork or your fingertips until crumbly. Stir in pecans. Sprinkle over the casserole.
Bake the casserole until heated through and the top is lightly browned, 35 to 45 minutes. Cool a few minutes and serve warm.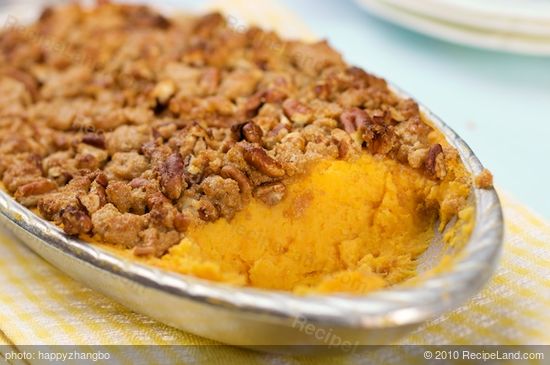 Nutrition Facts
Serving Size
130g
(4.6 oz)
Amount per Serving
Calories
222
36% of calories from fat
Trans Fat 0g
Total Carbohydrate
11
g
11%
Sugars g
Vitamin A 439%
•
Vitamin C 44%