Crispy Smashed Mini Potatoes
Smashed potatoes are always welcomed at any time of the year, this crispy smashed mini potatoes will completely satisfy every member of your family, you can serve it with any main dish.
Directions
In a large saucepan, add water half full and salt, bring to a boil, then put potatoes in, and cook until tender, 8 to 10 minutes.
Drain potatoes and let cool for about 5 minutes; if still wet, pat dry.
Use a small heavy saucepan to lightly smash each potato to ½-inch thickness on a cutting board.
Arrange smashed potatoes on greased baking sheet.
Then brush each one with oil, sprinkle with salt and pepper to taste.
Roast in preheat 425°F oven until skins are crispy and edges are browned, turning the baking sheet halfway through, 35 to 40 minutes.
Gently arrange baked potatoes on platter, don't let potatoes fall apart.
For the dressing:
At the same time, in a small saucepan, heat oil over medium heat, cook garlic until lightly brown, about 5 minutes.
Put capers in, cook for 1 minute. Stir often.
Put 2 tbsp of the parsley and red wine vinegar or sherry vinegar in, cook for 30 seconds.
Then spoon over potatoes, sprinkle the remaining parsley on the top.
Serve warm.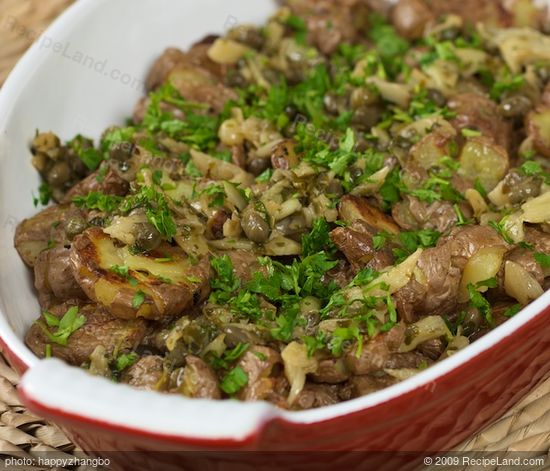 Nutrition Facts
Serving Size
135g
(4.8 oz)
Amount per Serving
Calories
147
21% of calories from fat
Trans Fat 0g
Sugars g
Vitamin A 1%
•
Vitamin C 32%