Salisbury Steaks with Mushroom Sauce
This version of Salisbury Steaks uses dried wild mushrooms in a beefy red wine sauce. Regular mushrooms work well too. Ground round makes for a meaty steak and milk keeps them juicy.
Directions
In a bowl, combine beef, flour, worcestershire sauce, onion, and spices. Blend gently, thoroughly mixing all ingredients. Add milk and mix again. Shape into eight patties, cover and refrigerate.
Meanwhile, place mushrooms in a small bowl. Cover with hot water and soak 20 to 30 minutes; chop and set aside. Strain water through a paper towel into a clean bowl. (This will remove any grit from the mushroom juice). Save the liquid.
Add enough beef broth to saved liquid to make 1 cup. Add red wine and stir well.
Place a heavy nonstick skillet over medium-high heat. Add the "steaks" and brown them thoroughly on each side. Remove from skillet and drain on paper towels. Pour off any liquid left in skillet and return skillet to heat.
If using fresh mushrooms sauté them for about 5 minutes. Add chopped mushrooms, liquids and carrots to skillet. Bring the liquid to a boil and reduce it by a third. Add the beef steaks, reduce heat and simmer 10 minutes.
Spoon a pool of sauce onto the plates. Top with one or two of the "steaks" and sprinkle with parsley. Sprinkle the steaks with parsley and serve hot. Serve with potatoes and a fresh green salad.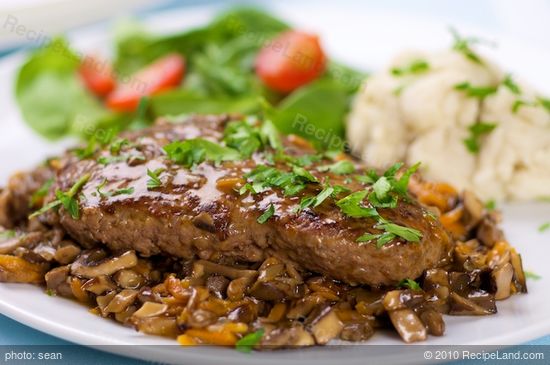 Nutrition Facts
Serving Size
161g
(5.7 oz)
Amount per Serving
Calories
140
28% of calories from fat
Trans Fat 0g
Sugars g
Vitamin A 13%
•
Vitamin C 4%