Absolutely Fab Mushroom Lasagna
Instead of tomato sauce, we use milk to make a creamy sauce, and with layers of mushrooms and cheese. It's just so easy for you to fall in love with this succulent lasagna.
Ingredients
½
ounce

mushrooms, porcini, dried


rinsed well

*

2
pounds

mushrooms, portabello


caps, cleaned and cut into 2 by 1/4-inch slices

¼
cup

olive oil




salt and black pepper


to taste

*

2
large

red onion


coarsely chopped

½
pound

mushrooms, button


cleaned, stems trimmed, and coarsely chopped

6
cloves

garlic


minced, or pressed, it's about 1 1/2 tablespoons

½
cup

vermouth


dry

*

3
tablespoons

butter, unsalted




3
tablespoons

all-purpose flour




3 ½
cups

milk




¼
teaspoon

nutmeg


ground

*

4
tablespoons

parsley leaves


freshly chopped

⅓
cup

basil


freshly chopped

*

½
pound

fontina cheese


Italian, or mozzarella cheese, shredded, 2 1/3 cups

½
cup

Parmesan cheese




12

lasagna noodles




*

1
teaspoon

lemon zest



Directions
Add the porcini in a measuring cup with boiling hot water, set aside and let steep for about 20 minutes.
Position the oven rack in the middle and preheat oven to 425℉ (220℃) degrees.
Arrange the portobellos in even layer on a rimmed baking sheet and drizzle evenly with 2 tablespoons oil, sprinkle with ½ teaspoon salt and pepper over the mushrooms.
Bake until almost all the liquid in the mushrooms has evaporated, 25 to 30 minutes, stirring once halfway.
Set aside to cool.
Meanwhile add 1 tablespoon olive oil in a large nonstick skillet over medium heat until hot.
Stir in the onions and salt to taste, cook until the onions are browned around edges, 8 to 12 minutes.
Scrape the onions into a large bowl and set aside.
Add the remaining tablespoon oil in the same skillet over medium heat until hot.
Stir in button mushrooms and cook, stirring once a while, until browned and moisture has evaporated, about 7 minutes.
Meanwhile use a fork to take the porcini out of the hot water, drain well, and coarsely chop.
Drain the liquid with a paper towel over a fine sieve, and set the drained liquid aside.
Reduce heat to medium low and stir in porcini mushrooms, garlic, salt and black pepper to taste.
Cook, stirring constantly, until garlic is fragrant, 40 seconds to 1 minute.
Pour in vermouth and cook, and keep stirring, until liquid has evaporated, about 3 minutes.
Add butter and cook until melted.
Stir in the flour and cook, stirring like crazy, 1 minute.
Pour in the milk, scraping the pan bottom to get all the browned bits off the bottom.
Stir in the reserved porcini liquid and nutmeg.
Bring mixture to boil over medium-high heat.
Reduce heat to low and simmer until the sauce gets very thick, about 15 minutes.
Remove from heat and stir in half of the parsley and basil.
Mix together fontina or mozzarella and parmesan cheese in a medium bowl.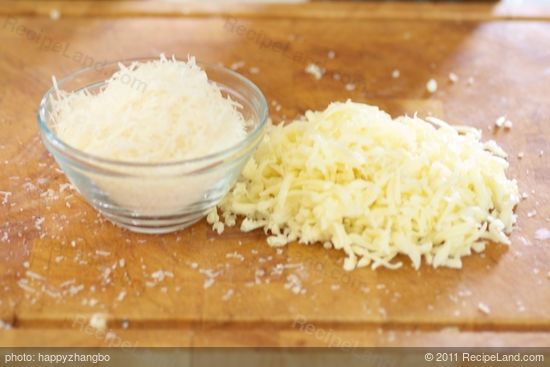 Toss the cooled portobello mushrooms with onions in another medium bowl.
Cook the lasagna noodles according to the package.
With the rubber spatula, spread 1 cup mushrooms sauce evenly on the bottom of a 13 by 9-inch baking dish .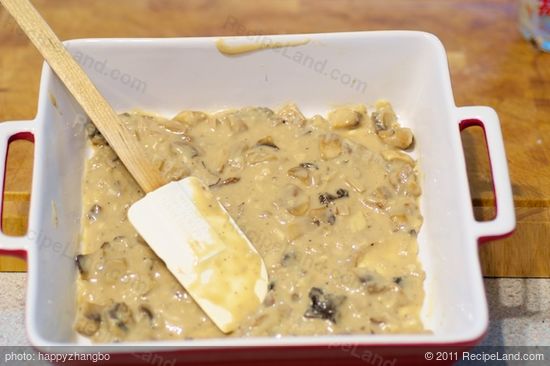 Place 3 noodles over the sauce.
Evenly distribute ⅔ cup of the sauce on top of the noodles, then 1 ¾ cups of the mushrooms-onion mixture and ⅔ cup of the cheese.
Repeat layering of the noodles, sauce, mushroom-onion mixture, and the cheese two more times.
Place 3 remaining noodles on top of the last layer of cheese.
Spread remaining sauce over the noodles and sprinkle with the remaining cheese.
Cover the lasagna with a large sheet of foil papper coated with the cooking spray.
Bake until bubbling, about 30 minutes.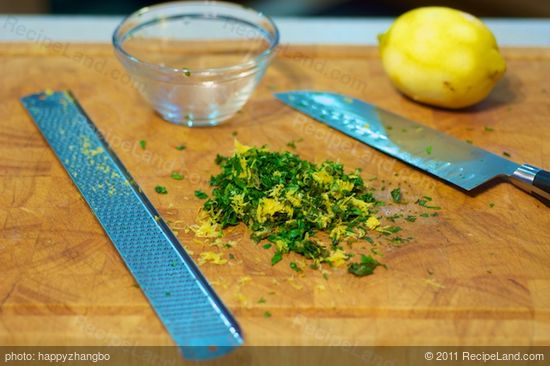 Meanwhile mix together remaining parsley, basil, and 1 teaspoon garlic with lemon zest in a small bowl.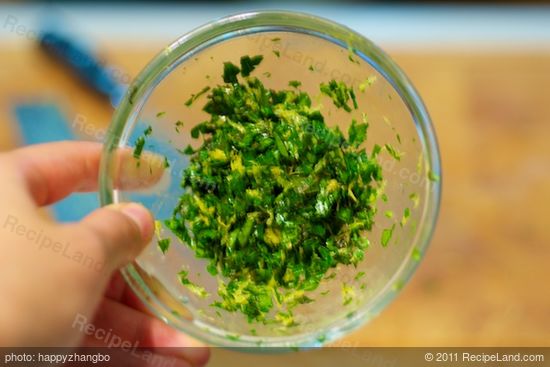 Turn up the oven temperature to 500 degrees F, take the foil out of the casserole dish, and keep baking until cheese on top browns, about 7 minutes.
Remove casserole dish from oven and sprinkle evenly with herb mixture right away.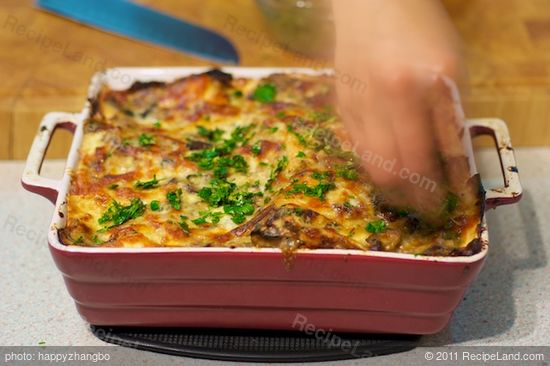 Let cool for 15 minutes.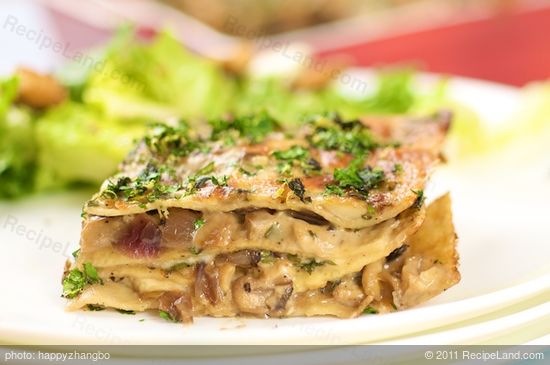 Serve warm.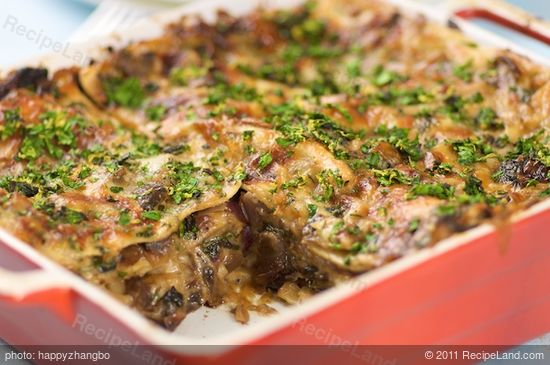 Nutrition Facts
Serving Size
260g
(9.2 oz)
Amount per Serving
Calories
248
59% of calories from fat
Trans Fat 0g
Sugars g
Vitamin A 10%
•
Vitamin C 10%