Cheesy Mushroom Phyllo Tartlets
Use phyllo pastry as the crust, place sauteed mushrooms with thyme at the bottom, then spread the mixture of cheddar and sour cream on top. Let these cute little tarts puff up and become golden-brown in the oven, absolutely delicious.
Directions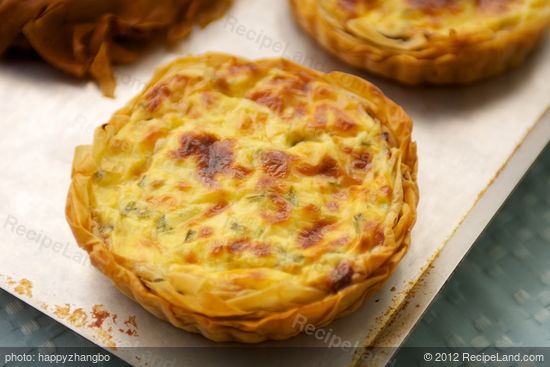 Preheat oven to 375℉ (190℃) F. In a large nonstick skillet, heat oil on medium high heat until hot.
Add onions, stirring often, and cook for about 5 minutes until soft and start becoming brown.
Stir in mushrooms, and cook for another 6 to 8 minutes, until moisture of mushrooms has released and evaporated and mushrooms are brown.
Add thyme and minced garlic, stirring constantly for 30 to seconds, remove from heat. Season with salt and black pepper.
Whisk together eggs and sour cream in a bowl. Mix in cheese, freshly minced jalapenos, pickled jalapenos and liquid if using, and red hot pepper sauce until well combined. Season with a little salt and black pepper.
At this stage, you need 6 4-inch tartlets or 1 9-inch tart pan with removable botom.
Unroll phyllo sheets, if using tartlets, take 5 sheets out once. Cut 5 sheets into half.
Brush each sheet with a little bit melted butter or olive oil. Line it into tartlet, repeat until 5 halved sheets are used up.
Tack overhanging phyllo inside tartlet and shape it around edge to make a pie-like crust.
Spread about 2 tablespoons of sautéed mushrooms over phyllo dough.
Add about 3 to 4 tablespoons of egg-sour cream mixture over the top of the mushrooms. Repeat until six tartlets are all done.
Bake for 20 to 25 minutes, or until nicely browned on top and a knife inserted in the center comes out clean.
Remove from oven and let cool for about 5 minutes. Remove the rings around tartlets, and serve warm.
If using a 9-inch tart pan, brush each phyllo sheet with melted butter or oil.
Line it into pan, repeat until all of phyllo pastries have been used up. Tack overhanging pastries inside pan around edges to form a crust.
Spread all mushroom mixture evenly over pasty. Place egg-sour cream mixture over mushroom.
Bake for 30 to 35 minutes, or or until nicely browned on top and a knife inserted in the center comes out clean.
Let cool for about 10 minutes, slice into wedges and serve warm.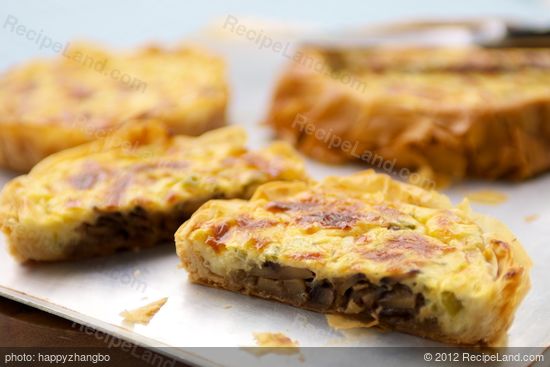 Nutrition Facts
Serving Size
175g
(6.2 oz)
Amount per Serving
Calories
197
75% of calories from fat
Trans Fat 0g
Sugars g
Vitamin A 8%
•
Vitamin C 10%