Phyllo Spinach, Sun-dried Tomato and Ricotta Cheese Tart
This wonderful crispy phyllo tart is a great recipe especially for holidays or you have guests, you can use fresh or frozen spinach. The ricotta, feta cheese and sun-dried tomatoes mix with spinach, adding eggs and egg whites, after baking, it is fantastic.
Directions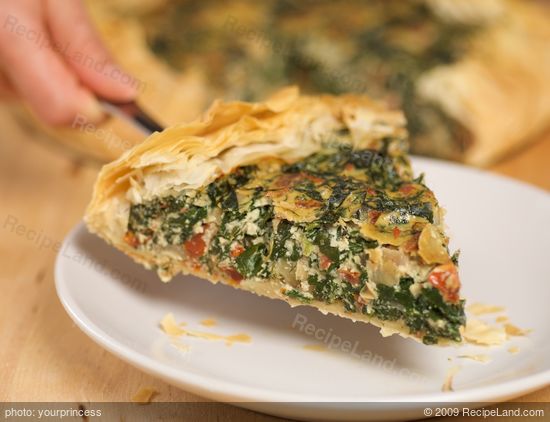 Heat 2 tablespoons canola oil in a large skillet over medium heat. Add onion and ¼ teaspoon salt and cook, stirring, until brown and tender, about 5 minutes. Add spinach in batches and cook, stirring occasionally, until wilted, about 3 minutes.
Whisk ricotta, feta, eggs, egg whites, dill, pepper and nutmeg in a large bowl. Stir in the spinach mixture and sun-dried tomatoes.
Preheat oven to 325℉ (160℃) F. Melt butter with the other 2 tablespoons olive oil in a small saucepan. Remove from the heat.
Unroll phyllo sheets onto a clean, dry surface, keeping them in a stack. (To make the tart in an 11-inch round tart pan instead of individual tartlets, see Variation, below.)
Cut the stack in half crosswise (you'll have 40 half-sheets). Cover with a piece of wax paper and then a damp kitchen towel. (Keep the phyllo covered to prevent it from drying out while you work.)
Lightly brush each 4-inch tartlet pan with some of the melted butter mixture. Place 1 half-sheet of phyllo in each pan, pressing it into the edges; brush with the butter mixture.
Go on adding sheets and brushing with the butter mixture until there are 5 layers in each pan.
Trim the phyllo, leaving a 1-inch overhang. Place the tartlet pans on a baking sheet. Divide the spinach mixture among the pans.
Fold the dough over the filling (it will not cover completely). Brush the edges of the dough with the remaining butter mixture.
Bake the tartlets until the filling is set and the crust is golden brown, about 35 to 40 minutes.
Let cool for at least 5 minutes, then gently turn the tartlets out of the pans. Serve warm.
Variation:
This recipe can also be made in an 11-inch round tart pan with a removable bottom.
Use 2 overlapping sheets of phyllo per layer, for 10 layers. Brush each layer with some butter mixture. Add the filling.
Trim the phyllo to make a 2-inch overhang, fold the dough over the filling. Bake until set and golden brown, 40 to 45 minutes. Cut into 8 pieces, serve warm.
Nutrition Facts
Serving Size
128g
(4.5 oz)
Amount per Serving
Calories
179
72% of calories from fat
Trans Fat 0g
Sugars g
Vitamin A 112%
•
Vitamin C 32%