Mini Quinoa Pancakes with Lemon Yogurt Sauce
Quinoa pancakes sound like an interesting way to cook quinoa, and these small pancakes turned out delicious. The lemon yogurt sauce was creamy, light and refreshing. These yummy quinoa pancakes can be served as an appetizer or a main dish.
Directions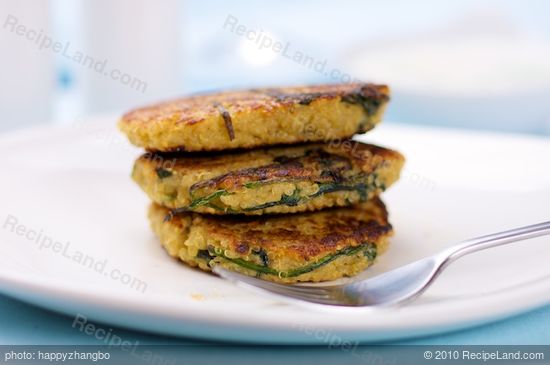 In fine sieve, rinse quinoa under cold water, drain well.
In saucepan, bring quinoa, broth and 1½ cups water to boil.
Reduce heat, simmer, covered, for 15 minutes.
Drain in fine sieve, set aside and let cool completely in sieve.
Meanwhile, in skillet, heat 1 tablespoon of the oil over medium heat.
Add onion, garlic, salt and pepper and cook, stirring occasionally, until onion is softened, about 5 minutes.
Stir in spinach and cook, stirring, until wiled and no liquid remains, 3 to 5 minutes.
Let cool enough to handle, coarsely chop the spinach.
For the Lemon Yogurt Sauce:
Combine together yogurt, onions, lemon juice, salt and pepper, stir well.
Put in refrigerator.
In large bowl, whisk together eggs, Parmesan cheese, flour, baking powder and lemon zest.
Fold in quinoa and spinach.
With wet hands, form into about 16 mini pancakes.
Transfer to waxed papper-lined tray. Keep refrigerating for at least 1 hour.
In skillet, heat half of the remaining oil over medium high heat, fry half of the pancakes, turning once with 2 spatulas, until golden, about 8 minutes.
Keep warm on baking sheet in 200 F degree oven.
Repeat with remaining oil and cakes.
Serve with lemon yogurt sauce drizzled and toasted pines sprinkled on top.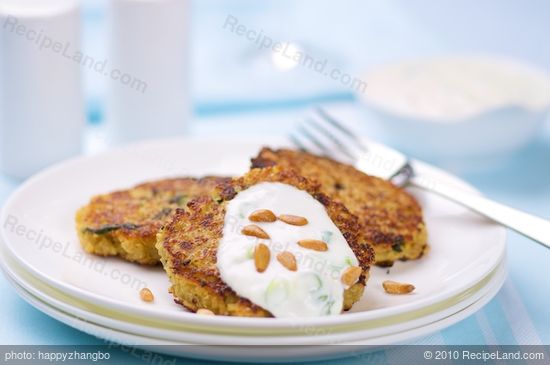 Nutrition Facts
Serving Size
169g
(6.0 oz)
Amount per Serving
Calories
312
54% of calories from fat
Trans Fat 0g
Sugars g
Vitamin A 23%
•
Vitamin C 11%