Healthy Cornbread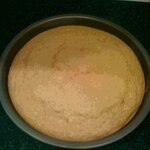 This is delicious and moist. It is not like regular cornbread so don't expect that taste. I used regular milk instead of soy and sour cream instead of applesauce, since I was out of those two ingredients. It still turned out beautifully and I will upload a picture of it.
Metric
Directions
Sift together corn meal, flour, baking powder and salt.
Add remaining ingredients, mix well with a spoon.
Pour into a 9 inch round teflon baking dish.
Bake at 350℉ (180℃). for 25 minutes, or until golden brown.