Ginger Pine Nut Biscotti
These homemade biscotti will impress everyone, it is good for a breakfast or snack, with a cup of coffee or tea.
Directions
In a small bowl, combine the brandy, currants, raisins, lemon zest, and ginger and let stand for half an hour.
With an electric mixer fitted with the paddle attachment, combine the flour, granulated sugar and sugar replacement if you are using, cornmeal, baking powder, and salt.
In a small bowl, whisk together the eggs, egg yolks, and vanilla.
With the mixer on low speed, add the egg mixture to the dry ingredients until just combined and the dough looks crumbly. Take care not to overmix.
Add the fruit mixture and the pine nuts, mixing just until the dough comes together (bring the dough together with your hands if it's a bit stiff). Let the dough rest for at least 30 minutes.
At the meantime, position oven racks in the middle and top of the oven and preheat to 350℉ (180℃). Line a large baking sheet with parchment paper. Cut the dough in half.
Roll each half into a log that's 16 inches long and 4 inches wide, using as little flour as possible on the work surface. (If you make the dough in advance, wrap the logs in plastic and refrigerate them overnight).
Transfer the logs to the baking sheet, setting them about 2 inches apart and patting the sides to smooth and straighten.
Brush the tops and sides with the beaten egg white and sprinkle with the turbinado sugar.
Bake on the middle rack until golden brown and firm in the center, 32 to 35 minutes, rotating the sheet to make sure baking evenly.
Put the sheet on a rack until the logs are cool enough to handle, so the dough won't compress when you cut it, about 30 minutes.
Reduce the oven temperature to 300℉ (150℃). Line parchment paper on two large baking sheets.
With a serrated knife, saw the logs into ½-inch-thick slices, cutting on the diagonal so each slice is about 6 inches long. Lay the slices flat on the baking sheets.
Bake about 15 minutes, moving the lower sheet to upper, change the left side to right. Turn the biscotti over. Bake until both sides are a rich golden brown, another 12 to 15 minutes.
Place the baking sheets on racks, letting cool and crisp completely on the sheets. Store in airtight container for 2 weeks.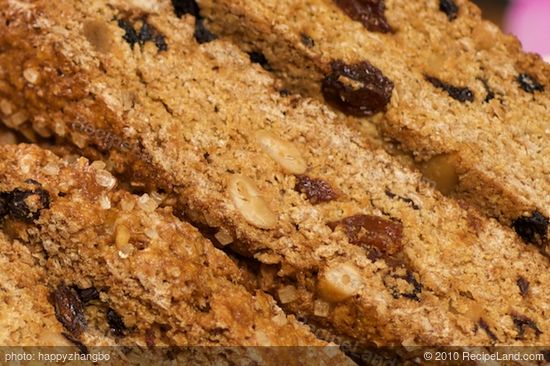 Nutrition Facts
Serving Size
75g
(2.6 oz)
Amount per Serving
Calories
245
27% of calories from fat
Trans Fat 0g
Total Carbohydrate
13
g
13%
Sugars g
Vitamin A 2%
•
Vitamin C 14%