Disgustingly Rich Brownies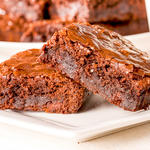 Disgustingly Rich Brownies recipe
Metric
Directions
Preheat oven to 350℉ (180℃).
Melt butter; stir cocoa and sugar together, then stir in melted butter. Add eggs and vanilla. Add flour and salt.
Stir until smooth.
Grease 8 or 9-inch baking pan; spread mixture into pan.
Bake 40 to 50 minutes or until toothpick comes out clean. Cool.