Classic Green Bean Casserole-Low Fat and Low Calorie
This version of the classic green bean casserole lightens the load without sacrificing the flavor or creaminess. Making your own french fried onions adds loads of crispy fried onion goodness.
Directions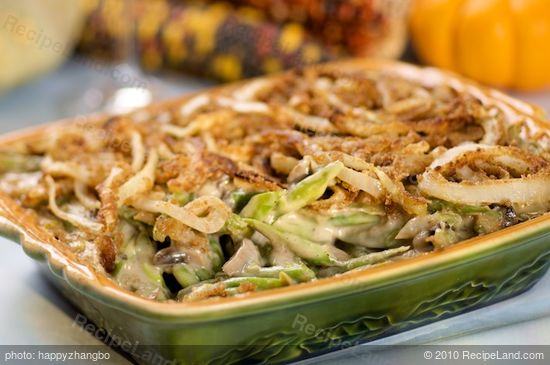 Preheat oven to 400℉ (200℃) F.
Coat a 2½-quart baking dish evenly with cooking spray or grease with butter.
Heat 1 tablespoon oil in a large saucepan over medium heat.
Stir in diced onion and cook, stirring often, until softened and slightly translucent, 3 to 5 minutes.
Add mushrooms, onion powder, 1 teaspoon salt, thyme and pepper.
Cook, stirring often, until the mushroom juices are almost evaporated, about 4 minutes.
Sprinkle ⅓ cup flour over the vegetables, stir to coat.
Stir in milk and sherry and bring to a simmer, stirring often.
Add green beans and bring to a simmer again.
Cook, stirring, until heated through, 1 to 2 minutes.
Stir in sour cream and buttermilk powder.
Transfer to the prepared baking dish.
Mix together the remaining ⅓ cup flour, paprika, garlic powder and the remaining ¼ teaspoon salt in a shallow dish.
Add sliced onion, toss to coat.
Heat the remaining 2½ tablespoons oil in a large nonstick skillet over medium-high heat.
Stir in the onion along with any remaining flour mixture and cook, turning once or twice, until golden and crispy, about 5 minutes.
Spread the onion topping evenly over the casserole.
Bake the casserole until bubbling, about 15 minutes.
Allow cool for a few minutes.
Serve warm.
Nutrition Facts
Serving Size
185g
(6.5 oz)
Amount per Serving
Calories
183
37% of calories from fat
Trans Fat 0g
Sugars g
Vitamin A 16%
•
Vitamin C 27%