Classic Green Bean Casserole-Low Fat & Low Calorie
Directions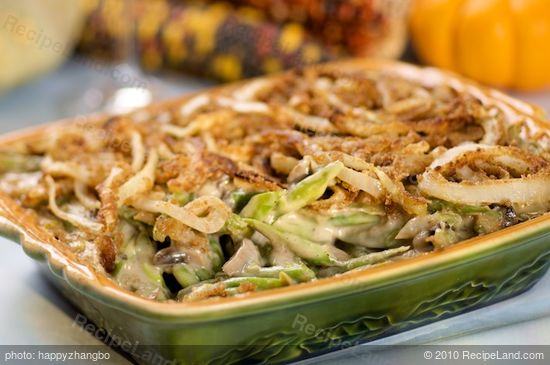 Preheat oven to 400℉ (200℃) F.
Coat a 2½-quart baking dish evenly with cooking spray or grease with butter.
Heat 1 tablespoon oil in a large saucepan over medium heat.
Stir in diced onion and cook, stirring often, until softened and slightly translucent, 3 to 5 minutes.
Add mushrooms, onion powder, 1 teaspoon salt, thyme and pepper.
Cook, stirring often, until the mushroom juices are almost evaporated, about 4 minutes.
Sprinkle ⅓ cup flour over the vegetables, stir to coat.
Stir in milk and sherry and bring to a simmer, stirring often.
Add green beans and bring to a simmer again.
Cook, stirring, until heated through, 1 to 2 minutes.
Stir in sour cream and buttermilk powder.
Transfer to the prepared baking dish.
Mix together the remaining ⅓ cup flour, paprika, garlic powder and the remaining ¼ teaspoon salt in a shallow dish.
Add sliced onion, toss to coat.
Heat the remaining 2½ tablespoons oil in a large nonstick skillet over medium-high heat.
Stir in the onion along with any remaining flour mixture and cook, turning once or twice, until golden and crispy, about 5 minutes.
Spread the onion topping evenly over the casserole.
Bake the casserole until bubbling, about 15 minutes.
Allow cool for a few minutes.
Serve warm.
---
---