Blueberry Bran Molasses Muffins
Wholesome blueberry bran muffin recipe from scratch. These bran muffins with blueberries and molasses stay soft and moist. Ideal for breakfast.
Directions
Preheat the oven to 350℉ (180℃) F and line the muffin tins with paper or silicone liner.
In a large mixing bowl, add the flour, salt, baking powder, baking soda, and cinnamon. Stir until evenly mixed.
In another medium bowl, mix the yogurt, sugar, molasses, honey, eggs, and vanilla extract until well combined. Add the wheat bran and blueberries, and stir just enough to incorporate.
Divide the batter among prepared muffin tins, and bake for about 25 minutes if you use fresh berries, about 35 minutes if using frozen berries, or until a tested wooden skewer inserted into the center comes out clean.
Let cool slightly, and remove from the muffin tins. Serve warm or at room temperature.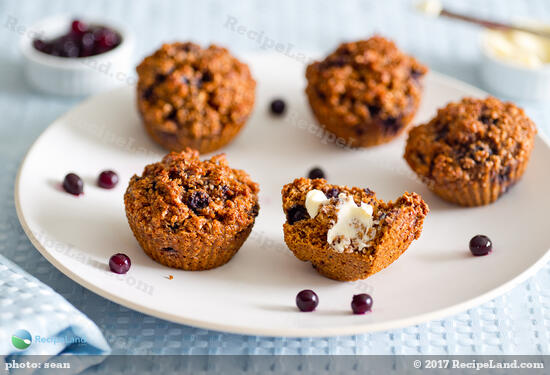 Storage
The muffins can keep in an air-tight container for a week in the refrigerator, and up to a month in the freezer.
How to make bran muffins moist?
The addition of the blueberries, yogurt help keep these bran muffins with molasses moist for up to a week.
Nutrition Facts
Serving Size
84g
(3.0 oz)
Amount per Serving
Calories
151
12% of calories from fat
Trans Fat 0g
Total Carbohydrate
11
g
11%
Sugars g
Vitamin A 1%
•
Vitamin C 4%