Chickenless Marsala
Tofu was golden and crispy after being cooked in the skillet, the mushroom sauce was made with Marsala wine, tomato paste and mushrooms, and it was absolutely flavorful.
Directions
Preheat oven to 300℉ (150℃) F.
Whisk flour, ¼ cup cornstarch, salt and pepper in a shallow dish.
Pat tofu with paper towel to remove excess moisture.
Heat 2 tablespoons oil in a large nonstick skillet over medium high heat.
Coat 4 tofu slices in the flour mixture, add them to the pan and cook until crispy and golden, 3 to 4 minutes per side.
Place the tofu on a baking sheet or foil paper and transfer to the oven to keep warm.
Repeat with another tablespoon of oil and the remaining tofu, adjusting the heat if necessary to prevent scorching.
Add the remaining 1 tablespoon oil, shallots and thyme to the pan.
Reduce heat to medium and cook, stirring constantly, until the shallots start to become soft and beginning to brown, about 2 minutes.
Add mushrooms and cook, stirring often, until tender and lightly browned, about 5 minutes.
Stir in Marsala and simmer until slightly reduced, 1 to 2 minute.
Whisk the remaining 2 teaspoons cornstarch with vegetable broth and tomato paste in a small bowl.
Stir into the mushroom mixture, return to a simmer and cook, stirring constantly, until thick and glossy, about 4 minutes.
Spoon the hot sauce over the tofu.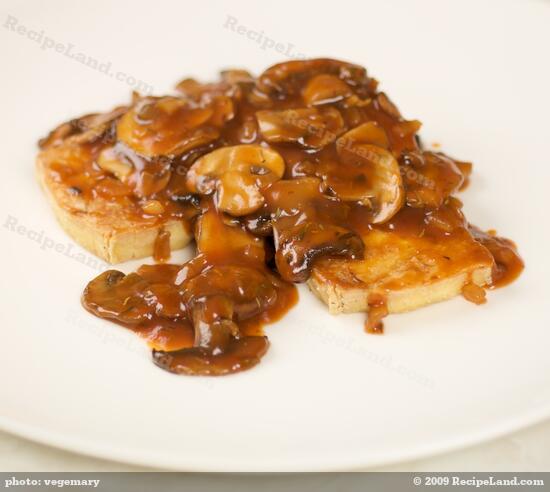 Serve warm.
Nutrition Facts
Serving Size
159g
(5.6 oz)
Amount per Serving
Calories
272
60% of calories from fat
Trans Fat 0g
Sugars g
Vitamin A 3%
•
Vitamin C 2%