Buttermilk Whole Grain Pancakes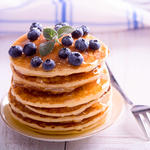 Get a powerful start to the day with these delicious and nutritious pancakes.
Metric
Directions
Add flour, buttermilk powder, dried egg whites, sugar, baking powder, baking soda and salt in a large bowl, and whisk until well combined.
Stir in flaxseed meal, dry milk and bran.
Mix together milk, oil and vanilla in a small bowl.
Put 2 cups pancake mix in a large bowl. (Refrigerate the remaining pancake mix in an airtight container for up to 1 month or freeze for up to 3 months)
Make a well in the center of the dry ingredients mix.
Stir in the milk mixture until just blended, do not overmix. (The batter will be quite thin, but will thicken up as it stands.)
Allow to stand for 5 minutes.
Coat a nonstick skillet or griddle with cooking spray over medium heat.
Stir the batter again before filling the muffin cups.
Using ¼ cup batter for each pancake, cook pancakes until the edges are dry and bubbles begin to form, about 2 to 4 minutes.
Turn over and cook until golden brown, about 2 to 3 minutes longer.
Adjust heat for even browning if needed.
Serve with fresh berries and maple syrup.
For more flavors:
Chocolate-Chocolate Chip Pancakes:
Fold ½ cup cocoa powder and 3 ounces chocolate chips into the batter.
Blueberry: Fold 1 cup frozen or fresh blueberries into the batter.
Banana and Nut: Fold 1 cup thinly sliced bananas and ¼ cup of finely chopped toasted pecans or walnuts into the batter.